PPL awards $25,000 grant for Head Start with Hawk Mountain
Posted on November 07, 2019 in Giving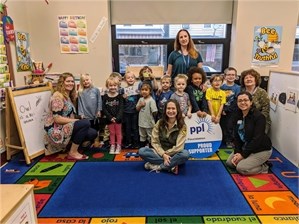 Kempton, PA—Thanks to a $25,000 major grant from the PPL Foundation, Hawk Mountain Sanctuary is sharing outdoor education programming with more than 600 pre-school-aged children enrolled in Child Development, Inc. of Schuylkill County's Head Start and PA PreK Counts classrooms. The program expands upon lessons learned through the Sanctuary's popular "Wee Ones" series by creating toolkits that can be used time and again in the Child Development classrooms.
Funds from the grant allowed Hawk Mountain to develop nature programs, create a toolkit of resources and hands-on materials. Next, the education team presented a teacher workshop at no cost open to all Child Development educators on how to use the materials, and for the Sanctuary's professional educators to model one program for each classroom in all Schuylkill County centers.
"We're grateful for the long-time support from PPL," says director of development Mary Linkevich.
"The project helps us to introduce nature education to hundreds of children who live near the Sanctuary but may be financially unable to visit," she adds.
Child Development Inc. of Schuylkill County works with families and the community to provide high quality, comprehensive early childhood education with an emphasis on family involvement and supportive services that prepares each child for school and a lifetime of learning. Through the grant, Hawk Mountain was able to reach eight centers in Tamaqua, Pottsville (2), Mahanoy City, Ashland, Shenandoah, Schuylkill Haven and Saint Clair that serve more than 600 children and their families and nearly 70 professional teachers and teaching assistants.
"Our partnership with Hawk Mountain Sanctuary and the financial support from PPL for this project is amazing," said Mary Ann Devlin, Executive Director of Child Development Inc.
"The training our teachers received was outstanding and our teachers are so grateful for the toolkits of quality resources and hands-on materials to use in their classrooms. Having the Education Team from Hawk Mountain present programs at each of our locations was a wonderful learning opportunity for both our children and teaching teams. With this funding and partnership, we opened the door for so many of our children and staff to experience nature and all that our county has to offer," she added.
"We at PPL understand that decisions we make today can shape our future for generations to come," said Carol Obando-Derstine, regional affairs director for PPL Electric Utilities.
"We are proud to support Hawk Mountain for helping to introduce the topic of conservation and appreciation of wildlife to children starting at a very early age."
About the PPL Foundation:
Through strategic partnerships, the PPL Foundation will support organizations that are working to create vibrant, sustainable communities and empowering each citizen to fulfill her or his potential. The PPL Foundation contributes more than $3 million annually to a wide variety of nonprofit organizations. For more information, visit www.pplcares.com.