M&T Charitable Foundation Donates $5,000 to Public Education Programming
20-year partnership for live raptor programs continues
Posted on September 29, 2022 in Giving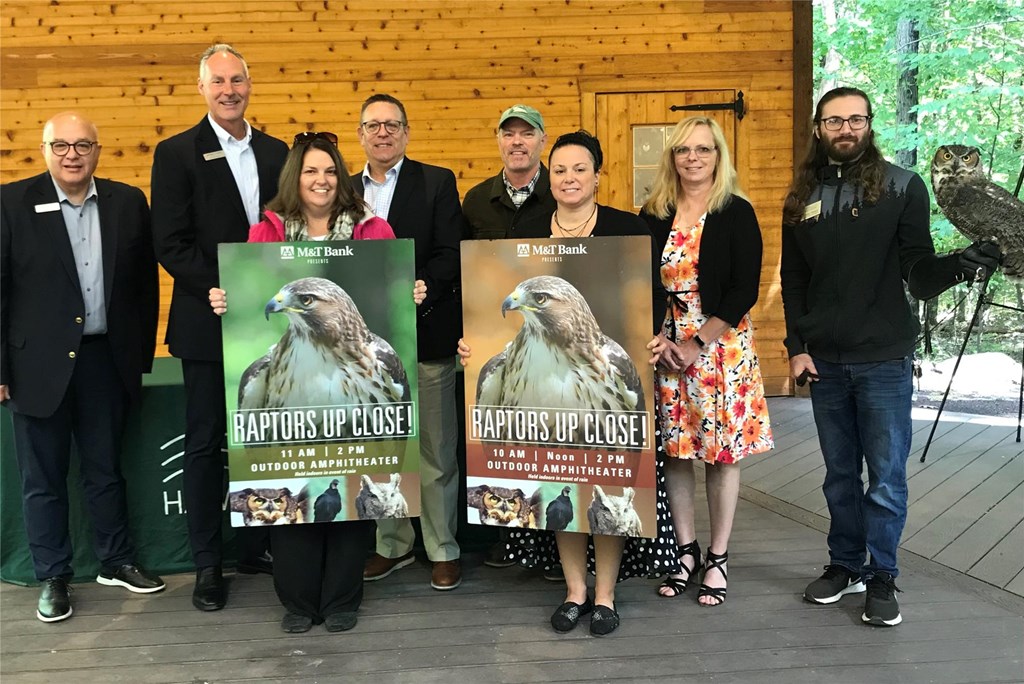 M&T Bank has awarded Hawk Mountain Sanctuary a $5,000 grant from the M&T Charitable Foundation to support the world-famous Sanctuary and its premier weekend program, the signature audience-attracter, Raptors Up Close! All weekend programs are offered Saturdays and Sundays, September through November and again during spring migration, April 1 through mid-May.
"For two decades, M&T Bank has been honored to partner with Hawk Mountain Sanctuary and support their Raptors Up Close program," says Phil Johnson, Regional President for M&T Bank.
"Dedicated to the communities where we live and work, the bank is passionate about affording residents and visitors the opportunity to experience the educational wonder of this program for free. This organization continues to impress M&T with its work in conserving birds of prey, providing worldwide leadership to science and education in this field, and offering the community an incredible outdoor experience," Johnson adds.
The popular live raptor show is accompanied by other weekend programs that focus on raptor identification and the trapping and tracking of birds for research, all presented when fall foliage and large numbers of migrating hawks, eagles, and falcons draw thousands of visitors from across the state and beyond.
"Thanks to their support, people have enjoyed high-quality programming in a safe outdoor setting and have had the chance to connect with nature at Hawk Mountain Sanctuary. We are grateful," says Director of Development Mary Linkevich.
"Support from M&T Bank helps Hawk Mountain attract new visitors and provide a high-quality outdoor recreation and learning opportunity for residents. It's fun, free, educational, and supports the local economy—it's a win-win," Linkevich adds.
The M&T Charitable Foundation strives to strengthen their communities by providing support for a diverse range of civic, cultural, health and human service organizations through grants, employee volunteerism, and in-kind services. Learn more here.