M&T Bank Continues Support of Raptors Up Close Program
Posted on September 08, 2016 in Giving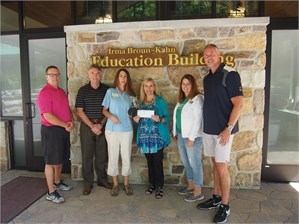 M&T Bank awarded Hawk Mountain a check for $5,000 from the M&T Charitable Foundation to sponsor its premier weekend program, "Raptors Up Close!" seen by thousands of visitors every spring and autumn.

The sponsorship allows Hawk Mountain to provide the "M&T Bank Raptors Up Close!" show for FREE at 10 am, noon, and 2 pm every Saturday and Sunday, rain or shine. Autumn programs began last week and will continue every weekend through mid November, and also will be presented on Columbus Day.

With incredible views of fall foliage and the chance to see large numbers of migrating hawks, eagles and falcons, Hawk Mountain draws more than 30,000 visitors from across the state and beyond during autumn months alone. Weekends are the busiest time and the M&T Bank Raptors Up Close presentation guarantees that every visitor has a chance to see a live hawk or owl, no matter the weather or flight conditions. It also offers the opportunity to teach visitors of all ages about birds of prey, their special adaptations, and their conservation needs.
On Wednesday, September 7, representatives and leaders from M&T Bank visited to present the grant check to Director of Education, Erin Brown and experience the Raptors Up Close program first-hand. They were able to meet one of the program's stars, a friendly eastern screech owl named Miss David.
The M&T Charitable Foundation has supported the Sanctuary's education programs for years, and plans to continue support as Hawk Mountain Education grows.