Hawk Mountain rejoins global Giving Tuesday Movement
Help the Sanctuary #ContinuetheCount by giving to their Annual Fund campaign
Posted on November 30, 2021 in Giving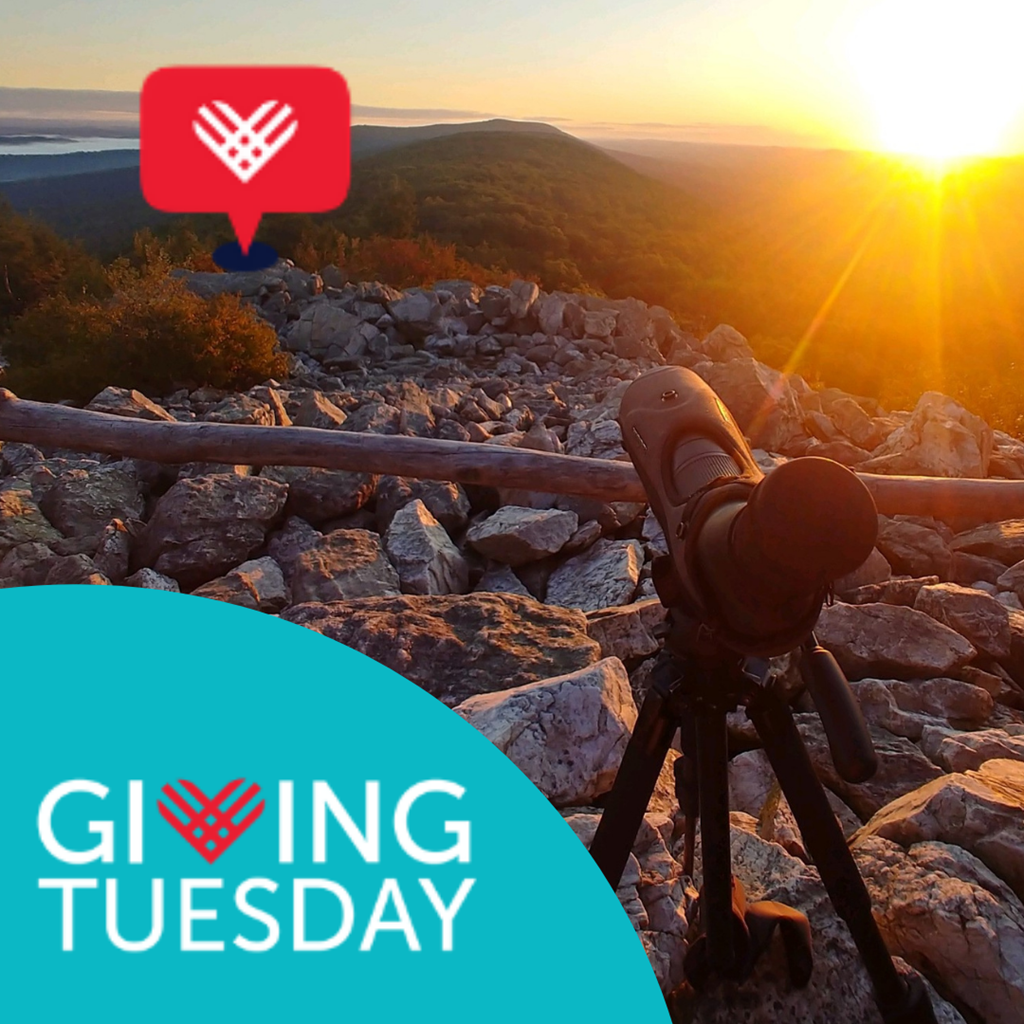 Hawk Mountain Sanctuary kicks off their online year-end giving campaign on the international "Giving Tuesday," which is a global day of giving that harnesses the collective power of individuals, communities, and organizations to encourage philanthropy and celebrate generosity worldwide. This is the sixth year the Sanctuary is participating. The Sanctuary encourages all supporters to donate to the Sanctuary's 2021 Annual Fund.
Giving Tuesday is held annually on the Tuesday following Thanksgiving and widely recognized shopping events such as Black Friday, Small Business Saturday, and Cyber Monday. The movement kicks off the holiday giving season and inspires people to collaborate in improving their local communities and organizations.
The #ContinuetheCount campaign is to remind supporters of Hawk Mountain's original and longest running mission: to continue the ongoing raptor monitoring efforts that first curator Maurice Broun started when the Sanctuary opened 87 years ago. Gifts to the Hawk Mountain Annual Fund help virtually every aspect of Sanctuary operations, including scientific research, education, Sanctuary stewardship, visitor services, and, of course, the biannual raptor migration hawkwatch.
"Giving Tuesday allows us yet another opportunity to remind the public of ways that they can help support conservation efforts," says Sanctuary President Sean Grace. "Giving Tuesday and widespread mission work hand-in-hand, and we are happy to channel your generosity towards helping monitor and conserve raptors locally and globally."
This year, all online gifts up to $10,000 will be matched dollar for dollar thanks to a generous donor, so your contribution can go twice as far in supporting the Sanctuary. Hawk Mountain can accept donations at hawkmountain.org/give/annual-fund-page, in person at the Visitor Center, or by mail. For more information, visit www.hawkmountain.org/givingtuesday or contact Hawk Mountain Sanctuary at [email protected] or at 610-756-6961.
The 2,500-acre Hawk Mountain Sanctuary is the world's first refuge for birds of prey and is open to the public year-round by trail-fee or membership, which in turn supports the non-profit organization's raptor conservation mission and local-to-global research, training, and education programs. To learn more about Hawk Mountain and its efforts, visit www.hawkmountain.org.


About #GivingTuesday
#GivingTuesday is a movement to celebrate and provide incentives to give—the 2021 iteration will be held on November 30, 2021. This effort harnesses the collective power of a unique blend of partners—nonprofits, businesses, and corporations as well as families and individuals—to transform how people think about, talk about and participate in the giving season. #GivingTuesday inspires people to take collaborative action to improve their local communities, give back in better, smarter ways to the charities and causes they celebrate and help create a better world. #GivingTuesday harnesses the power of social media to create a global moment dedicated to giving around the world.
To learn more about Giving Tuesday participants and activities or to join the celebration of giving, please visit:
Website: www.givingtuesday.org
Facebook:www.facebook.com/GivingTuesday
Twitter:twitter.com/GivingTues