Hawk Mountain receives general operating grant from PPL Foundation
Posted on October 03, 2017 in Giving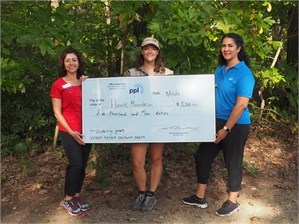 Hawk Mountain Sanctuary's daily operations, from global training and research to welcoming school groups, receive continued support from a generous PPL Foundation grant.

General operating grants are the Sanctuary's most important form of support, underwriting all Hawk Mountain conservation science and education programs, visitor services, and Sanctuary operations and maintenance. The $5,000 funding provided by the PPL Foundation will contribute to the numerous educational events, workshops, and lectures that are provided for members and the public, as well as continued support for ongoing conservation research.

"This type of grant supports everything we do at Hawk Mountain Sanctuary, from global training and research to leading school groups to welcoming hikers," says Director of Development Mary Linkevich. "We couldn't be more grateful."

"We at PPL believe in environmental stewardship," said Carol Obando-Derstine, PPL Electric Utilities' regional affairs director. "We commend Hawk Mountain for working towards creating lasting change through their educational programs and conservation research, which is why we are pleased to support their efforts. They are also contributing positively to the region by making it a great destination to visit."

About the PPL Foundation

Through strategic partnerships, the PPL Foundation supports organizations that are doing innovative and groundbreaking work to create vital, sustainable communities and empowering each citizen to fulfill their potential. The PPL Foundation contributes more than $2 million annually to a wide variety of nonprofit organizations. For more information, visit www.pplcares.com.