Hawk Mountain receives $100,000 for critical land conservation project
Posted on November 25, 2013 in Giving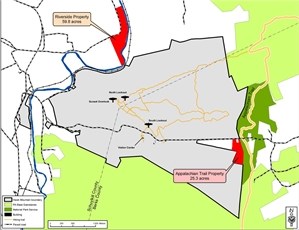 Hawk Mountain is one step closer to protecting 85 acres of contiguous land, thanks to a $100,000 grant from the state Department of Community and Economic Development. The award is one of 116 greenways, trails and recreation projects to receive dollars through Act 13 Marcellus Legacy Funds, administered by the Commonwealth Financing Authority.
Hawk Mountain will use the grant to help protect through purchase a 25.3-acre forested slope that buffers Hawk Mountain and the Appalachian Trail in Berks County. The grant did not included funds to help protect through conservation easement a second, 60-acre property below the Sanctuary's North Lookout.
"A conservation easement is just more difficult to secure than an outright purchase, but we are thrilled with the award and will continue to work hard to conserve important habitat," says Sanctuary President Jerry Regan.
"Our goal now is to grow a land conservation fund, preferably through a significant gift to establish a land conservation endowment. I'd love to speak to anyone who has interest in making such a transformational gift," he added.