FirstEnergy Foundation awards Hawk Mountain general operating grant
Posted on July 10, 2019 in Giving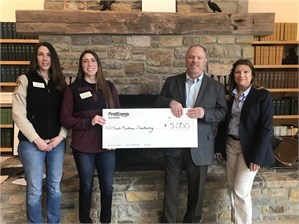 Hawk Mountain Sanctuary received support from the FirstEnergy Foundation with a generous grant of $5,500 for general operating.

"This type of grant supports all of our efforts at Hawk Mountain, from global training and research to welcoming local students and hikers," says Director of Development Mary Linkevich. "We are so thankful for this contribution."

This grant comes just in time for summer and fall events. Funds will contribute to weekend programs, educational workshops, and lectures that are offered almost every weekend, in addition to maintaining the eight-mile trail system and supporting long-term raptor migration monitoring and other global research and education.

"At FirstEnergy, we are proud of our record of environmental stewardship, including our ongoing efforts to help protect ospreys near our power lines," said Lorna Wisham, president of the FirstEnergy Foundation. "Hawk Mountain's mission aligns with the Foundation's focus to improve the vitality of our communities and promote local and regional economic development.."

About FirstEnergy Foundation:

The FirstEnergy Foundation's contributions to local nonprofit organizations help strengthen the social and economic fabric of our communities. Funded solely by FirstEnergy, the Foundation extends the corporate philosophy of providing community support.

FirstEnergy is dedicated to safety, reliability and operational excellence. Its 10 electric distribution companies form one of the nation's largest investor-owned electric systems, serving customers in Ohio, Pennsylvania, New Jersey, West Virginia, Maryland and New York. The company's transmission subsidiaries operate more than 24,000 miles of transmission lines that connect the Midwest and Mid-Atlantic regions.