Visit Veracruz Oct 6-14
The Hawk Watching Trip of a Lifetime
Posted on March 29, 2022 in General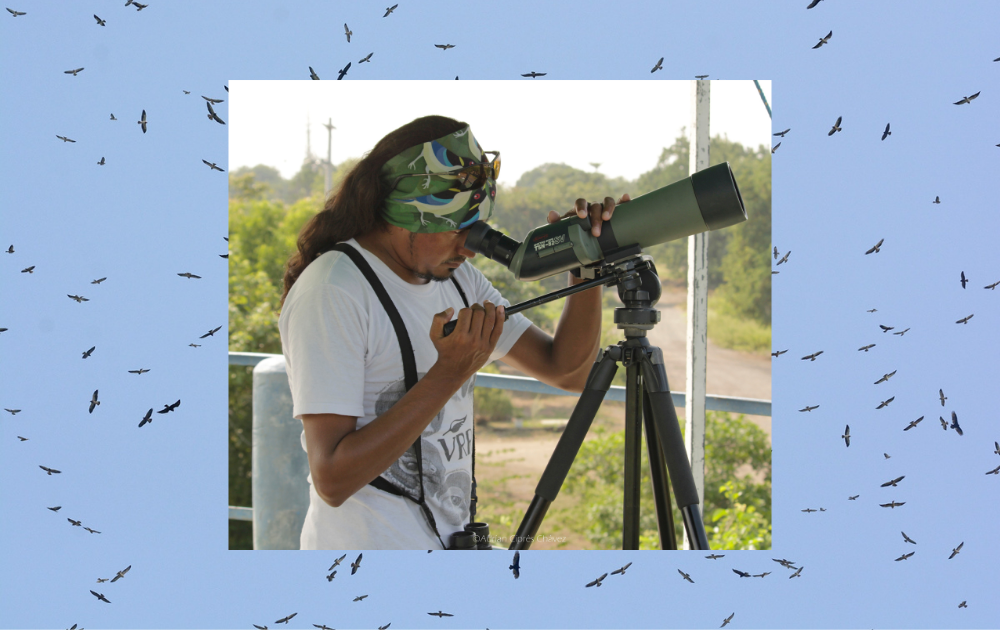 Download Itinerary Now
October 6 to 14, 2022
$3,700 with airfare on your own
Cost includes all hotels, meals, guides, ground transportation and entry fees.
Registration and $500 deposit due by June 1.

Join Hawk Mountain raptor expert and Director of Conservation Science Dr. Laurie Goodrich and local guides Jorje Montejo and Amy McAndrews for the hawk-watching experience of a lifetime. More than 5 million raptors stream overhead each autumn as they funnel through Veracruz, Mexico, located along the coast of the Gulf of Mexico. Veracruz tour participants can expect to see more than 200,000 hawks per day. In fact, counts in recent years have confirmed that Veracruz is host to the most concentrated raptor migration in the world and tallies over 90% of the world's population of Swainson's and Broad-winged hawks, and Mississippi Kites along with swarms of other hawks that represent up to 30 species.
Take in the aptly named "River of Raptors" at the convenient observation tower-nature center operated by our partners at Pronatura Veracruz and enjoy the wide variety of Neotropical raptors found nearby. An optional extension will allow visitors the chance to visit a remnant patch of rainforest during the birding extension.
The Perfect Raptor Vacation
This tour is conducted at a relaxed pace with lots of time to look at raptors and other birds, plenty of time to unwind at the hotel, walk the beaches and nature trails looking for birds, or just enjoy your drink while you watch the migration from the hotel rooftop or the observation tower. Your guide Dr. Goodrich helped to initiate this important migration watch site, has led dozens of tours, and is a raptor migration expert, well versed with the local people and language. Your co-host Kashmir Wolf is a Hawk Mountain trainee graduate and identification expert as well, who has led dozens of tours and is bilingual. You'll also have the chance to meet fellow hawk watchers and counters from around the world and learn about the River of Raptors history and future.

Other Birds
While Central Veracruz is best known for raptor migration, general birding in the region is nothing short of spectacular. Temperate and tropical species intermingle at coastal beaches, lagoons, wetlands, grasslands, and lowland forests.
Numerous migratory birds can be seen here in staggering numbers, including American White Pelican, Wood Stork, White-faced Ibis, White-winged Dove, Scissor-tailed Flycatcher, Eastern Kingbird and Dickcissel. The impressive diversity of resident species means there is always something to look — Magnificent Frigatebird, Bare-throated Tiger-Heron, Northern Jacana, White-fronted Parrot, Squirrel Cuckoo, Blue-crowned Motmot, Canivet's Emerald (endemic), Violaceous Trogon, Green Kingfisher, Boat-billed Flycatcher, Fork-tailed Flycatcher (austral migrant), Masked Tityra, Mangrove Swallow, Rufous-naped Wren (endemic), Red-throated Ant-Tanager and Montezuma Oropendola are but a small subset of birds commonly seen in Central Veracruz.
Book your tour today. Download the itinerary
Contact Laurie Goodrich to reserve your spot.
This is a limited seating tour and deposits are required by June 1, so don't delay!