Hawk Mountain Board Chair Thomas Kerr receives Thomas P. Shelburne Environmental Leadership Award
Posted on November 09, 2021 in General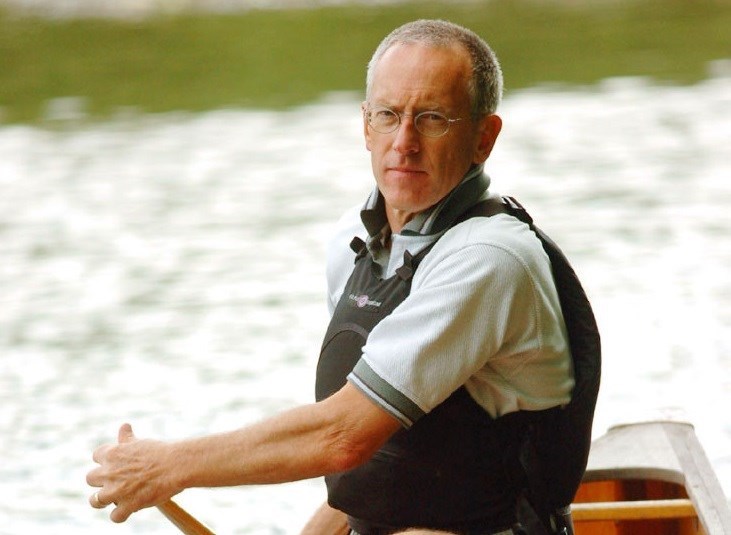 The Northeast PA Environmental Partners within the Pennsylvania Environmental Council recently announced the winners of its 2021 environmental awards, including the prestigious 26th Annual Thomas P. Shelburne Environmental Leadership Award presented to Tom Kerr of Kempton. Tom is Chair of the Board of Hawk Mountain Sanctuary, where he has served as a board member for more than two decades, including positions as interim president, vice chair, and chair of the land conservation committee, among others.
Kerr was selected for his more than 35 years of dedication to conserving water and land resources across Pennsylvania. He has worked tirelessly, both personally and professionally, to champion these causes, and his success is likely attributed to his passion for the outdoors and his willingness and ability to connect people, especially decision-makers, with important natural resources. Many a business leader or politician placed their first paddle into the water with Tom at the stern and left with a new appreciation for the importance of land and water conservation.
Tom is well known for his 20-year tenure as Executive Director of Wildlands Conservancy, where under his leadership the organization quadrupled its workforce and budget resulting in the protection of 45,000 acres of greenspace. Other highlights included working with staff to design and establish the Lehigh River Water Trail, establishing the popular Bike and Boat and Lehigh River Sojourn programs, and helping to design and construct several public parks including the unique Bob Rodale Cycling and Fitness Park in Trexlertown. He also championed a campaign to raise $67 million for open-space conservation in Lehigh and Northampton Counties.
In fact, he revolutionized how land trusts connect with the broader public, focusing on this type of public engagement, not only with movers and shakers, but also with locals and especially young people. As a result, the Conservancy's outreach and education programs today have reached hundreds of thousands of people of all ages, sharing an appreciation of nature, the importance of land conservation, and the value of stewardship.
Tom pushed conservation agendas state-wide by founding in 1995 the Pennsylvania Land Trust Association, now We Conserve PA. Knowing the value of information exchange among peers, he also helped to organize the first statewide land trust conference.
Following his retirement from Wildlands, he provided consulting services to government agencies and other organizations to help them protect natural resources and enhance outdoor recreation. He contracted with the City of Allentown to establish a sustainability office, and later joined HDR Engineering, Inc., where he managed select projects such as the development of the Allentown waterfront.
His service includes former volunteer positions on the DCNR advisory committee, including as second vice-chair, and long-standing membership of the local Lion's Club, which helped to fund an ADA compliant kayak launch at Leaser Lake. More recently, he worked to establish and serve on an Environmental Advisory Council for his local Albany Township.
Prior to his job at Wildlands, he served as director of administration for Hawk Mountain, the position that brought him to Kempton, where he continues to connect people through paddling, cycling, birding, and hiking, and in turn, sparking his own passion within a new generation of ambassadors for the cause of conservation.
Help us congratulate Tom by registering and joining us for the award presentation as part of the virtual 31st Annual Evening for Northeast Pennsylvania's Environment, held Wed, Nov 10 at 6 p.m. Register for this FREE online event here.