Spend Summer on the Mountain with the 2023 Summer Nature Camps
Posted on February 03, 2023 in Education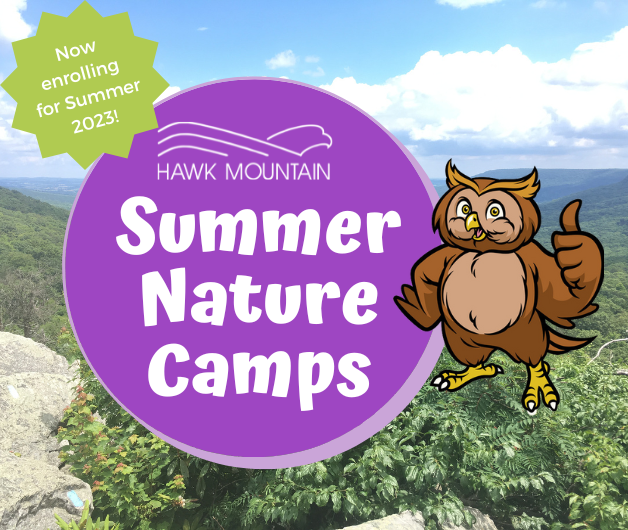 It is not too early to start planning how to spend summer vacation! Join us at Hawk Mountain this summer and grow your connection with nature at our 2023 Summer Nature Camps. Campers can choose from eight fun and educational themes or join us for multiple weeks. The Summer Nature Camps are designed for young nature enthusiasts entering grades 1st – 6th. Teens ages 14 – 17 are welcome to join the Sanctuary for the Counselors-In-Training (CIT) program to gain leadership training and experience.

"We are so excited to welcome our campers and CITs back to the Mountain for our 2023 Summer Nature Camps! Our education team puts so much work into developing an impactful and enriching camp curriculum for all our participants," says Jamie Dawson, Director of Education. "Each week of camp is focused on a different nature-related theme, including outdoor skills, animals, art and its connection with nature, an inside look into becoming a young naturalist, and more! Our camps are jam-packed with many fun activities that also uplift the next generation of conservationists."

All camp sessions take place daily, 8:30 a.m. to 3:30 p.m., Monday through Friday. Camps begin June 19 and run until August 11 for a total of eight weeks of outdoor adventure and education. Camps are led by professional environmental education specialists, and group sizes are limited based on optimal teacher-student ratios.

Campers' days will include meeting live animals, hiking woodland trails, role-playing, making art and craft projects, learning from scientists and special presenters, exploring natural areas, sharing stories, and conducting experiments. Some days may include off-site trips to study water creatures or explore regional highlights.

Pricing is $300 per camp session, and a discounted $250 for Mountain Members. An additional $50 discount off one week is available to those registering for 4 or more weeks, which can also apply to 2 campers attending 2 weeks. Campers can choose topics of interest or join us for the entire summer! Registration can be found at hawkmountain.org/summercamps or linked below.

Hawk Mountain Sanctuary will honor requests for refunds submitted 14 days or more before the start date of the scheduled camp program, minus a $50 non-refundable administrative fee for each program and each child. For more information on cancellations and refunds, click here.

Counselors-in-Training (CITs) are volunteers who will support the staff by being role models for campers, helping campers with activities, leading games, assisting with supervising, setting up, and cleaning up. We equip CITs with the ability and experience to practice age-appropriate teaching methods, activity planning, emergency training, and leadership skills. CITs may receive a letter of recommendation, certificate of completion, and approved community service and/or volunteer hours. Training of 1-2 days prior to the beginning of camp is required for CITs. Visit hawkmountain.org/CIT for more information and to submit an application.

Advancing access and inclusion in outdoor spaces, the IDEA Fund Nature Camp Scholarship will help remove barriers by covering the full tuition costs of Summer Nature Camp for each scholarship recipient. Partial aid may also be awarded. Visit hawkmountain.org/education/idea-fund for more information on submitting an application and project idea for a group that could benefit from the outdoors.
The full 2023 Summer Nature Camp line-up is as follows:

Art of Nature Summer Camp
June 19 – 23
Designed for youth entering grades 1-3 and 4-6. Nature will inspire campers' imaginations through art, music, movement, role-playing, sculpture, and more! Each day campers have fun exploring the sanctuary, meeting live animals, and being creative.

Wild Survivors Summer Camp
June 26 – 30
Designed for youth entering grades 1-3 and 4-6. Learn techniques that people utilized hundreds of years ago in order to live off the land. Using hands-on experiences, discover how past humans, plants, and wild animals survived, and listen to stories of the past. Learn how to cook over a fire during this week of adventure. Meet LIVE animal ambassadors and learn how they survive in the wild.

Predators & Prey Summer Camp
July 3 – 7
Designed for youth entering grades 1-3 and 4-6. Whether they have fur or feathers, crawl or fly, hop or swim, the wild animals of our world have always captured our imagination. This week campers will learn about the ancient relationship between predator and prey! Which animal is the fastest, biggest, or strongest? Campers will get up close and personal with some LIVE predators and prey, too.

Surviving in the Wild Summer Camp
July 10 – 14
Designed for youth entering grades 1-3 and 4-6. Discover how humans, plants, and animals survive in the wild. Campers will learn survival skills through hands-on experiences like basic way-finding skills, how to collect water, and cook over a fire during this week of adventure. Learn what to do when encountering wildlife and build emergency shelters. Meet some LIVE animal ambassadors and learn how they stay safe and find food, water, and build shelters of their own.

All About Animals Summer Camp
July 17 – 21
Designed for youth entering grades 1-3 and 4-6. Each day campers will investigate a new type of animal group found at the sanctuary. Collect bugs in jars or study critters in a stream! Campers will explore insects, birds, mammals, reptiles, amphibians, spiders, and more during this week dedicated to the animal kingdom. LIVE animal encounters, stream study, hiking, games, and more. Off-site stream study included this week.

Wild Discoveries Summer Camp
July 24 – 28
Designed for youth entering grades 1-3 and 4-6. Discover nature in the strangest places! Look under logs, splash in a stream, create science experiments, and investigate wildlife clues during this week of nature exploration. Campers will experience the natural world from different perspectives as they scan the treetops and examine the stones beneath their feet. Uncover how the sanctuary's LIVE animal ambassadors would live in the wild. Off-site stream study included this week.

Woodland Games Summer Camp
July 31 – August 4
Designed for youth entering grades 1-3 and 4-6. Join in the fun and learn by playing outdoor games, splashing in a stream, doing scavenger hunts, and tackling teambuilding challenges. Campers will discover the natural world, and more about themselves, through interactive games and activities. Animal encounters, hiking, games, and so much more! Off-site stream study included this week.

Young Naturalist Summer Camp
August 7 – 11
Designed for youth entering grades 1-3 and 4-6. Start your campers on their paths to becoming naturalists! Campers will track wild animals, identify trees, and learn some of the basic tools of a naturalist while exploring nature firsthand. Meeting LIVE animals and learning how to identify them will be the greatest adventure. Off-site stream study included this week.

All information regarding the 2023 Summer Nature Camps and associated programs can be found at www.hawkmountain.org/summercamps. For information on other upcoming events and programs, visit www.hawkmountain.org/events.