Raising awareness of the Farmland Raptor Project
Volunteer Katie Andrews spreads the word
Posted on September 26, 2016 in Education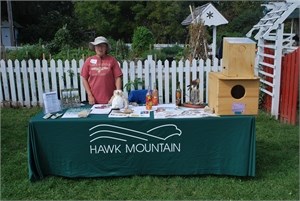 Volunteer Katie Andrews spent last Saturday at the German Cultural Heritage Center in Kutztown to promote our Farmland Raptor Program.

This was a Hawk Mountain project begun in 2012 with funding for first year by Wild Resource Conservation Fund. Currently, all outreach is supported by private donations to Hawk Mountain and by volunteer efforts. Katie works with help from Shaver's Creek Environmental Center to get the word out in Central PA.

The mission of the project is to raise awareness and educate about the 4 farmland raptor species of concern: the barn owl, the short-eared owl, the American kestrel, and the northern harrier. These four species that soar over fields and farmlands have been declining in recent years. The program relies on volunteers and supporters to report when they spot one, so that we can better understand their behavior and distribution. The PA Farmland Raptor Project Page offers more information on how anyone can help and why it is so important that you do so.

Katie set up an informational table at Kutztown's Heemet Fescht, a PA Dutch folk festival on the farmlands of the German Heritage Center just off of Kutztown University's campus. The exposure offered a wonderful opportunity for the local community to learn more about the local raptor populations, as well as receive info on how to contribute.

The Heritage Center will be putting up their own barn owl box as participation in the project. For information on the project and how to help, click here.