New Distance Education Programs Extend Hawk Mountain's Educational Outreach
Posted on February 06, 2017 in Education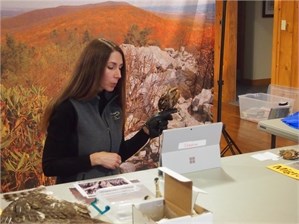 On January 9, 2017, the Hawk Mountain Sanctuary education team launched its new Distance Education programs, which are offered free of charge for any participating class across the nation.

Financial, transportation, geographic, and time constraints can prevent schools and other groups from taking field trips. Distance education allows students anywhere to engage and learn about raptors without having to attend the Sanctuary.

Learning is facilitated via the Skype video-conferencing platform and supports incorporating technology in the classroom (STEM). Student engagement is assured via the use of a raptor trunk filled with learning materials used during the program and sent prior to the program.

Program topics include the history of Hawk Mountain Sanctuary, raptor adaptations, migration strategies, types of raptors, trapping and tracking (data and migration movements), conservation efforts, and a live raptor. Additionally, programs can be modified according to classroom needs.

Programs are aligned with the PA Department of Education's Environment and Ecology Standards and the Next Generation Science Standards. Raptor trunks are available for elementary and middle school levels at this time, and the high school level trunk will be available at the beginning of June. The trunks contain materials and resources for use before, during and after the program.

"We love the idea of extending our educational reach, and allowing students across the country access to the same advantages of a field trip to Hawk Mountain. Moving forward, we would like to branch out internationally, working with schools in Central and South America," says Director of Education Erin Brown.

For more information, go to hawkmountain.org/distanceeducation or visit the Hawk Mountain blog and podcast at raptordiaries.com.