Meet our new Director of Education
Posted on April 03, 2014 in Education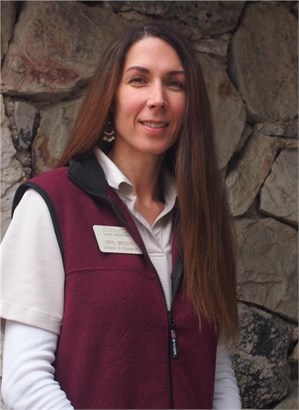 Hawk Mountain Sanctuary welcomes Erin Brown as its first Director of Education in nearly two decades. Brown will lead the organization's strategic work to build education programming to a global leadership level, including to provide the highest quality public and school programs and resources, and to encourage educators from all areas and backgrounds to use raptors and raptor migration as a focus for learning.

Hawk Mountain President Jerry Regan is excited to have her join the team.

"This new position expands our education staff, and with our capital vision and newly-opened Irma Broun-Kahn Education Building, now we can expand our educational outreach and connect even more people of all ages to the mountain and the migration," he says.

Board member Scott Weidensaul led the national search, which began late autumn and attracted more than 100 qualified candidates stretching from Florida to Utah to New York. "It was an exhaustive review that involved multiple interviews from a large pool of finalists, but in the end, we found a superb new director of education," says Weidensaul.

Only by luck would the clear contender come from Berks County, Pennsylvania, was a former 20-year resident of Schuylkill County, and also a long-time member of the Sanctuary. Local ties aside, Brown brings to the Mountain experience in both the public school system where she worked as a Life Science Teacher at the Parkland Area School District, as well as the state park system, where she held positions as an environmental educator and volunteer coordinator. Her broad-based experience includes leading teacher workshops, developing science-based curriculum, directing eco camps, and work within the school system to develop new science curriculums and create STEMM-related activities.

A major goal of the new position is to fully integrate science and education into the Hawk Mountain experience, and to boost education materials, activities and curricula that combine real science with teacher needs. Fittingly, Erin brings a variety of outdoor teaching certifications that include the Project WILD, Project WET and WOW!, the Project WILD Aquatic, the Pa Songbirds, and the WWF Pa Biodiversity curriculums, as well as ten years of hands-on experience in handling and caring for live raptors and using them as tools for learning.

A long-time education volunteer and member of the Carbon County Environmental Center, Brown is also a senior Girl Scout leader in Douglassville, and has received awards for professional excellence from the Carbon County Conservation District, the Schuylkill County Visitor's Bureau, the Pennsylvania Department of Education and the Kutztown University College of Education. She currently resides with her husband Eric and her three children in Birdsboro where the entire Brown family enjoys an active, outdoor lifestyle.