Meet Katie Marrone
New spring communications intern at Hawk Mountain
Posted on January 28, 2014 in Education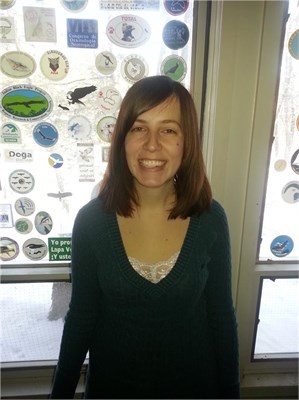 By Jennifer Cleary
Communications Intern
Katie will graduate from Kutztown University (KU) this May with a bachelor's degree in English and a concentration in professional writing. She is also working towards a minor in English, and this spring will help to contribute to Hawk Mountain's communications department, including press releases, social media updates, and profile writing.
A seven-time Dean's List recipient and dedicated member of Essence, KU's fine arts and literary magazine, Katie became the publication's secretary in 2013, writing daily recaps for meetings and helping to edit and review various submissions. She was also the recipient of the Mary S. Kittel Award in Writing for Social and Environmental Justice in 2012. Additionally, Katie has been nominated twice for Kutztown's Who's Who Among Students, a prestigious award that recognizes students who demonstrate academic excellence and leadership.
At home in Breinigsville, PA, Katie works at an after care program with a local school as an Extended Care Aid for children. In her spare time, she enjoys reading, writing, and cooking. She is also passionate about travel and animals, and hopes to one day become a technical writer.
Katie's internship is sponsored by Air Products and Chemicals, Inc. Learn more about Air Products here.