Meet Jennifer Mohr
Education trainee joins Hawk Mountain
Posted on January 28, 2014 in Education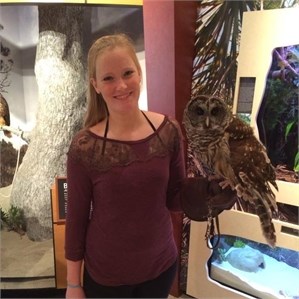 By Katie Marrone
Communications Intern
Hawk Mountain Sanctuary welcomes Jennifer Mohr, a new education intern for spring 2014. Jen recently earned a degree in elementary education with a concentration in science from Kutztown University, and will help lead school field trips and present programs throughout the spring season.
Jen is a long-time birder and member of both Hawk Mountain and the Lehigh Valley Audubon Society. She hopes to make a difference in the environment using her education background combined with her knowledge of and passion for birds. She also is a six-time Christmas Bird Count participant, and has assisted with hawk and owl banding.
Jen grew up on a farmland/woodland property in Vera Cruz, Pa, just outside of Emmaus, and currently resides in Allentown. Off the Mountain, her hobbies include hiking, camping, and birding.
To learn more about Hawk Mountain education programs, visit www.hawkmountain.org/learn.