How One Owl Could Change the Way a New Generation Views Raptors
Educating with Live Raptors in Underserved Classrooms
Posted on February 03, 2020 in Education
By Rebekah Smith, Science-Education Outreach Coordinator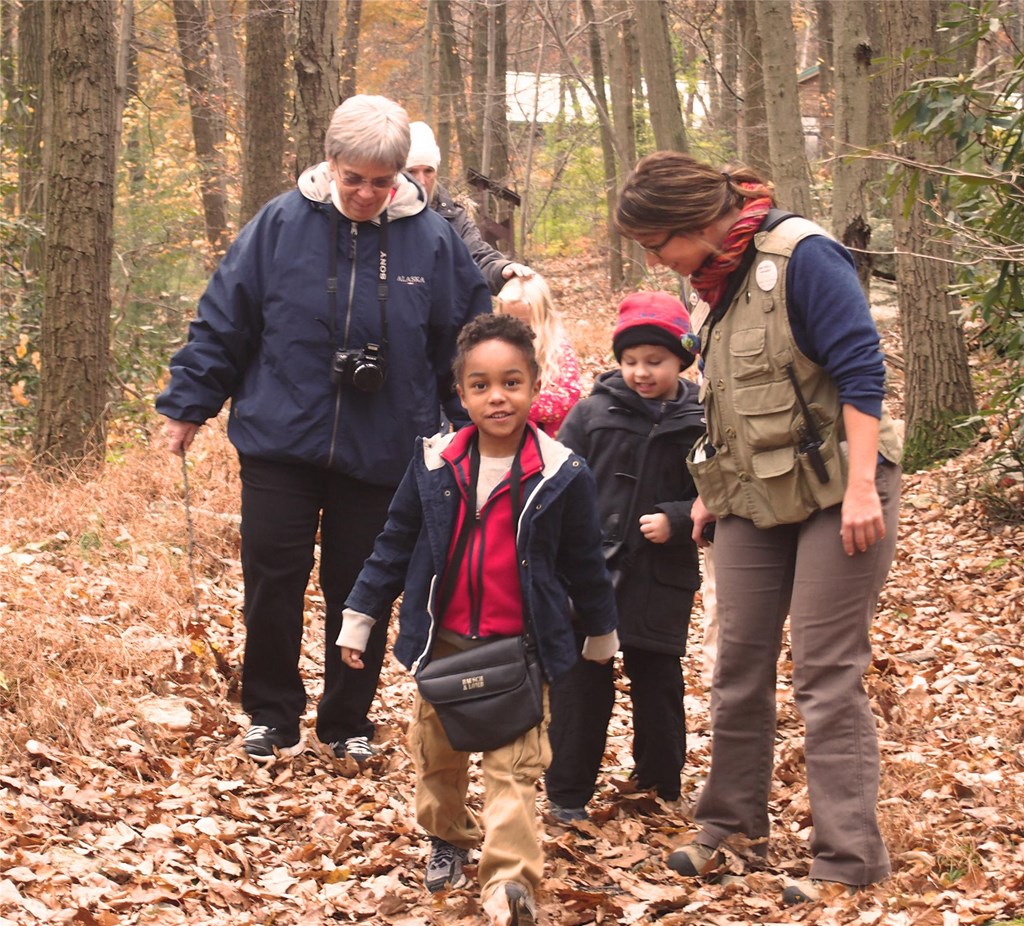 Even after a long day responding to emails, scheduling education programs, and organizing raptor care, Hawk Mountain Sanctuary's Educators Rachel Taras and Andrea Ambrose continue to exude passion for both education and raptors. Out of all their responsibilities, they both know they can find joy in caring for the raptors and sharing their own enthusiasm with young audiences. Rachel and Andrea understand that a visit to Hawk Mountain Sanctuary is a privilege that isn't practical for some families. That's why Hawk Mountain has worked to expand our reach to local classrooms that otherwise wouldn't be able to afford a visit or pay for a program. Generous donors have allowed us to do this, and we hope to continue to do it in the future.
One of our current initiatives for reaching underserved classrooms was funded by our "feed the birds" fundraiser from last year's Hawk Mountain Sanctuary Benefit for the Birds gala. Donors who gave $500 were able to provide a program to a school of their choice or designate the money for programs provided to local underserved schools.
"If a school called us and told us they wanted to visit for a program but didn't have the funds to make it happen, we were able to offset some of that cost for them," Rachel explained.
These underserved classrooms come from the public school sectors not be able to afford these immersive programs that we believe that all children should be able to experience. Rachel is able to help some of these schools by scheduling them for programs either at Hawk Mountain or in their own classrooms. Most of these programs included the appearance of one of our captive education raptors. Rachel and the education team are responsible for the health and well-being of these birds, who have helped thousands of children learn about raptor conservation.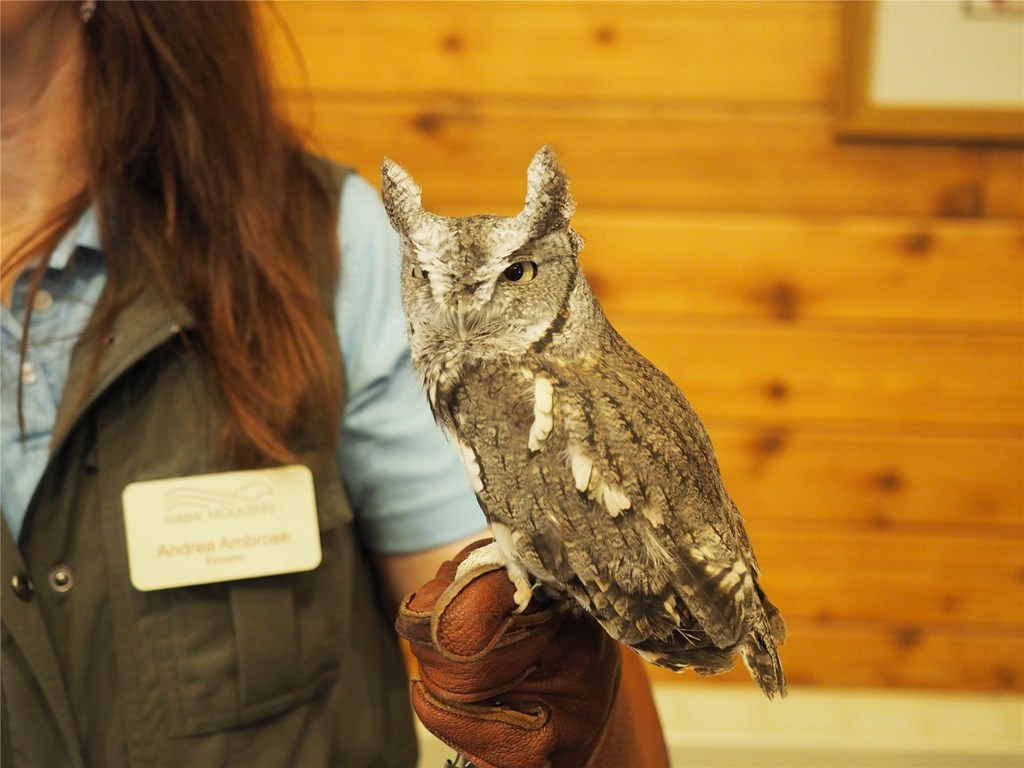 Rachel became involved in wildlife care at a young age and credits her many mentors for her ability to work with a large variety of raptor species and to train staff, volunteers, and trainees to properly interact with captive raptors. Once sufficiently trained, a practiced partnership with our captive raptors can be an effective tool to grab the attention of young children. The evolving field of wildlife husbandry and medicine requires Rachel to be constantly open to learning new techniques, requiring countless hours of research beyond her regular educator duties. Rachel holds the well-being and health of Hawk Mountain Sanctuary's education raptors as her top priority.
Rachel's mantra is that "raptor care is a 365 days a year, rain-or-shine responsibility." However, all that work and planning becomes worth it when Hawk Mountain Educators can get the message across about the importance of raptors in our ecosystem.
"It's a very rewarding experience," Andrea says. "When I'm in a room full of four-year-olds, and it's time to get the Eastern screech owl out, the amazed look on everyone's face lets me know we've made their day."
Raptor care is the term we've coined that encompasses our entire captive feathered educator operative. Hawk Mountain Sanctuary houses three raptors on-site who all require daily care provided by Rachel and her team of educators and trained volunteers. Rachel teaches her team to cultivate a "trust account" with each raptor to promote positive reinforcement and confidence in both the handler and the bird. Our raptors work with educators and volunteers to teach people of all ages about the importance of raptors within the ecosystem, their specialized physical adaptations, and why Hawk Mountain works to conserve them.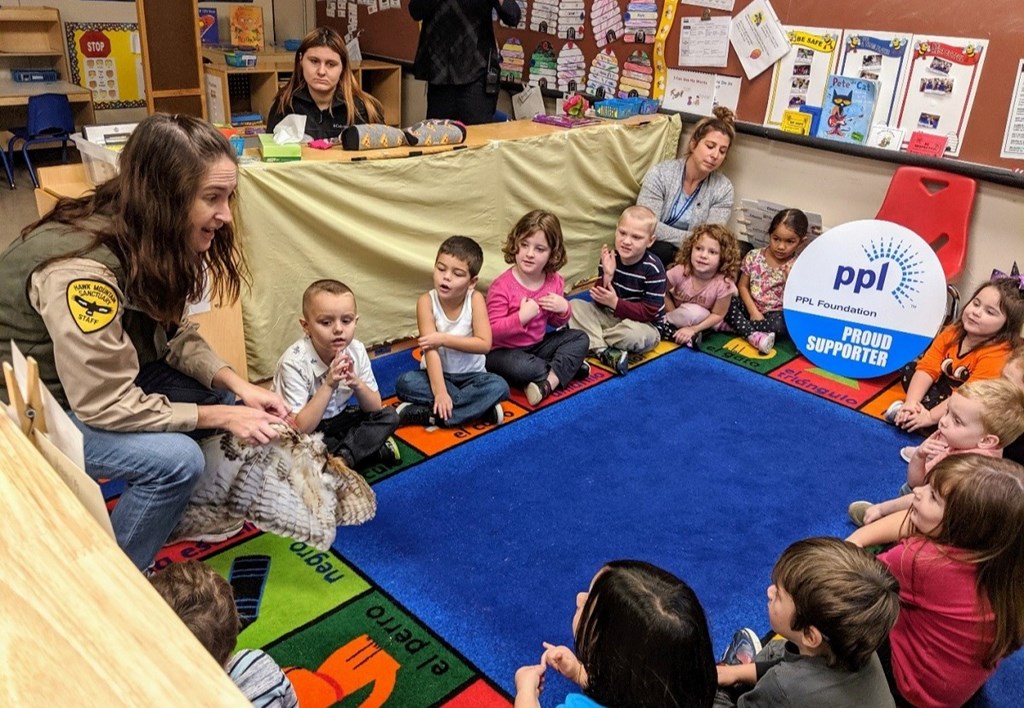 Andrea has seen the impact of our feathered ambassadors first-hand due to a $25,000 PPL Foundation grant that was awarded to Hawk Mountain Sanctuary, allowing us to provide raptor education to schools within the Head Start Program. This network encompasses underserved Pre-K and Kindergarten classrooms. Andrea spearheaded the outreach for this program, creating lesson plans and travelling to seven school districts within Schuylkill County to give live programs. She also hosted a teacher workshop where teachers could visit Hawk Mountain and learn how to utilize the tools they would receive in their lesson plan trunks. Each school had two to six classrooms where Andrea shared the message of raptor conservation and ecosystem concepts for beginners. The addition of a live, feathered ambassador in these programs really helped make our message vivid for such a young age group, whose attention span can be a limiting factor in effective education.
"I really enjoyed working with that age group; they were so engaged and wanted to experience everything through their hands," she explained. Her trunks included games and activities where the children could be creative and interactive while learning. It took Andrea a full year to prepare the lesson plan trunks and then finally visit each school to present a program with the Eastern screech owl. "The days were long, but very worthwhile. Of course, at the end of each program, the highlight was the appearance of the owl. I could tell that many of those children would have never experienced something like that without our help."
"It would be great to see this project done for another county, as many schools struggle with funding in the area. The Lehigh Valley school district would be a great place to start," Andrea shared. Although there is plenty of need for raptor conservation in these areas, Hawk Mountain won't be able to continue this initiative without additional funding. If you would like to help Hawk Mountain continue to reach young children with the message of raptor conservation, regardless of socio-economic background, please contact Director of Development Mary Linkevich at 610-756-6000 ext. 212 or [email protected].