Hawk Mountain's Rachel Spagnola named Educator of the Year
Posted on August 22, 2018 in Education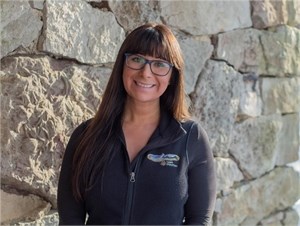 Schuylkill Conservation District named Rachel Taras Spagnola, Senior Educator at Hawk Mountain Sanctuary, their 2018 Educator of the Year. The annual awards ceremony was held Tuesday, August 21.

Rachel was selected for her unique skills and enthusiasm to connect with people of all ages and backgrounds to heighten awareness and appreciation of the natural world. She is a professional teacher, raptor educator, wildlife handler and trainer, who for 15 years has worked to educate the public about raptors and their amazing migrations.

Rachel joined Hawk Mountain in 2008 as a seasonal educator and began educating full time in 2013. At the Sanctuary, she is responsible for education programming, raptor husbandry, and training. She holds a bachelor's degree in elementary education with a minor in special education and a master's degree in ecological teaching and learning. This background provided her with a diverse skill set, allowing her to offer an inclusive experience for all visiting groups.

"Rachel was nominated for her talent in connecting people of all ages to the beauty and wonder of raptors. This is evident in all of her programs and work at the Sanctuary," said Hawk Mountain Director of Education Erin Brown.

For more information about Hawk Mountain's educational resources of offered programs, visit hawkmountain.org/education.