Hawk Mountain Joins as Educational Partner for the Hanover Bald Eagle Cam
Posted on December 08, 2018 in Education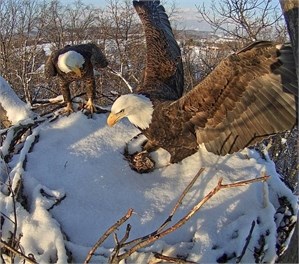 On December 3, streaming service HDOnTap partnered with Hawk Mountain Sanctuary and Comcast Business to launch the fifth year of the Hanover Bald Eagle Nest, Hawk Mountain will provide the educational component via a weekly blog.
Streaming 24/7 from Hanover, PA, the live cam will capture the nest and behaviors of two returning bald eagles, as they incubate and raise their young through their fledging. Hawk Mountain will assist in interpreting the events at the nest and present weekly updates and additional educational content about the species and general raptor ecology and conservation on the Hanover Bald Eagle Blog.

"HDOnTap is thrilled to be partnering with Hawk Mountain Sanctuary, leaders in raptor conservation science and education, on the new Hanover Bald Eagle Blog," says HDOnTap Co-Founder Tiffany Sears. "We hope this adds to the live cam viewing experience."

Other information, photos, and video highlights will be posted throughout the nesting season on the blog and on Hawk Mountain's Facebook page. Updates will also be shared in Hawk Mountain's e-newsletters, which you can subscribe to here.

"When you can show close-up footage of nesting bald eagles and their young, you're going to get people hooked on raptors," says Hawk Mountain President Sean Grace. "Learning and sharing about raptors is exactly what we do best, so this is a win-win partnership."