Celebrate Women in Conservation at Hawk Mountain with Upcoming Free Virtual Panel
Posted on March 22, 2022 in Education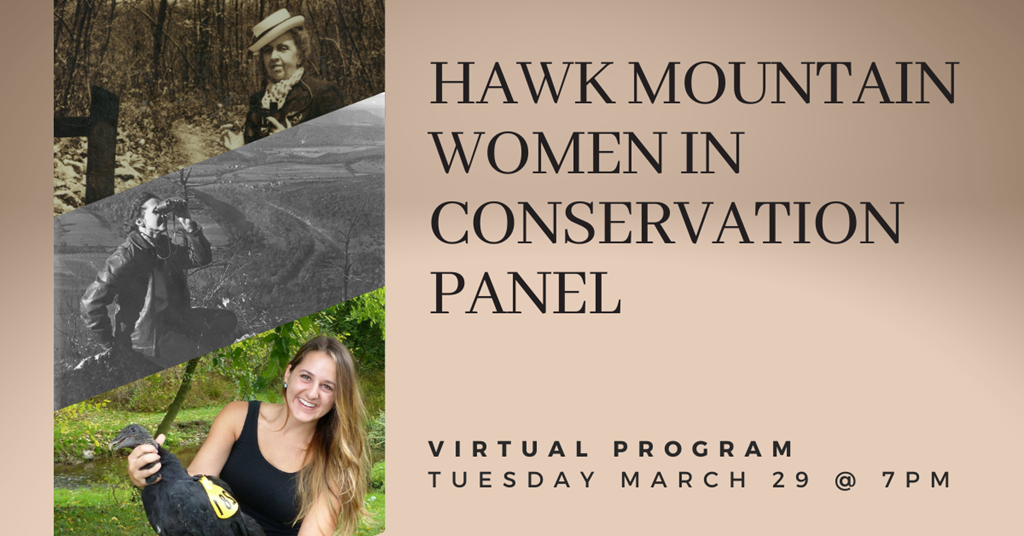 Join us to celebrate Women's History Month with a free virtual Women of Hawk Mountain Panel. Join six women in conservation as they discuss their progressive history at Hawk Mountain and their experiences in conservation with hopes to inspire up-and-coming women in STEM.
"Dr. Laurie Goodrich has inspired me since my first day at the Sanctuary," says Membership Manager Tammy Jandrasitz about the community between staff at Hawk Mountain.
"While her knowledge of raptors is impressive in and of itself, it's the way she shares her knowledge with others and the next generation of raptor conservationists that truly inspires me."
The panel runs from 7 – 8:30 PM on Tuesday, March 29. Click here to register. Registration will close two hours prior to the beginning of the program, and all registrants will receive an email with a private link to the webinar one hour before the start of the program. A recording of the webinar will be posted and shared with all registrants following the event.

Riley Davenport, Educator & Raptor Care Specialist (Panel Host)
Riley's background in art education and passion for conservation makes her a skilled environmental educator. Since completing an Education Traineeship in 2019 and joining the Sanctuary full-time in 2021, Riley focuses on running the Summer Nature Camp programming, assisting with on and off-site educational programing, creating curriculum, and caring for education birds.
Tammy Jandrasitz-Bodey, Membership & Volunteer Manager (Panel Host)
Serving as a backbone to Hawk Mountain's memberships, volunteers, and engaging events like the annual benefit is a friendly face who's been with the Sanctuary since 1998. Tammy oversees membership and volunteer outreach and has grown the database to include more than 10,000 individuals.
Ana Castaño, Sanctuary Board Member
Ana is a forestry engineer who has made birding her career. She developed a passion for migratory raptors in the late 90's and has since conducted bird surveys and promoted conservation across her home country of Colombia. She serves on the Board for the National Network of Birdwatchers in Colombia (RNOA) and Hawk Mountain Sanctuary. She is one of the five members of the national Committee of Global Big Day Colombia, and has been a member of Sociedad Antioqueña de Ornitología (Antioquia Society of Ornithology) for 28 years, serving as President for three terms. In addition to these roles, she has been involved in the formation of other regional and national ornithological organizations in Colombia.
Jamie Dawson, Director of Education
Jamie brings to Hawk Mountain a wealth of global experience with non-profit education programs having trained in South America and Africa. Our global reach is expanded through Jamie's oversight of local and international education programming as well as genuine a passion for diverse cultures, ecologies, and conservation strategies.
Dr. Laurie Goodrich, Director of Conservation Science
Prior to appointment as director, Laurie started at the sanctuary as the first full-time research biologist but completed a wide variety of tasks including overseeing long-term migration counts, development of education plans, and raising transformational grants. She helped initiate various local and global research projects including the PA Farmland Raptor Project and world renowned River of Raptors site in Veracruz, Mexico.
Dr. Rebecca McCabe, Research Biologist
Rebecca joined the staff in 2021, serving as a Research Biologist and collaborating on various projects at the Sanctuary including research on American kestrels, broad-winged hawks, and snowy owls. Rebecca is a former Hawk Mountain graduate student and Conservation Science Trainee and is involved with many aspects of conservation science and outreach in addition to connecting and strengthening the trainee alumni network.
Dr. Diane Husic, Sanctuary Board Member, Conservation Science Committee Chair
Diane has served on the Hawk Mountain board of directors since 2019 where she chairs the Conservation Science Committee. The Dean of the School of Natural and Health Sciences and Professor of Biology at Moravian University, Diane's research focuses on the ecological restoration of a contaminated site (the Palmerton Superfund site). She sits on the Steering Committee of the Research and Independent NGOs under the United Nations Framework Convention on Climate Change (UNFCCC), attended the 26th conference of the parties, and is a member of the Innovation Task Force of the UNFCCC Technology Executive Committee.
Holly Merker, Sanctuary Board Member
Holly has served on the board of directors since 2020 and is also a volunteer counter for the Sanctuary. A passionate volunteer, she has used this "volunteerism" to power multiple bird conservation efforts. She has served on the boards of multiple ornithological organizations, helped revise the ABA's Code of Birding Ethics, and was the first female in the roles of "Voting Member" and "Committee Chair" for the Pennsylvania Ornithological Records Committee. Holly has been the State Coordinator/lead data reviewer for the Cornell lab of Ornithology's eBird project since 2005. She co-founded the Frontiers in Ornithology Symposium for youth, and facilitates young birder experiences across the US.
Register now for this program at hawkmountain.ticketleap.com.