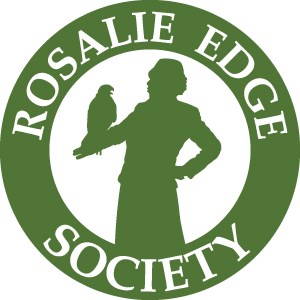 The Rosalie Edge Society was established to honor those caring individuals who have made the decision to designate $25,000 or more through a planned gift, OR who make an outright gift of cash to support an endowment or the Land Conservation Fund. Like our great founder Rosalie Edge, such donors support the future of Hawk Mountain and leave a legacy.
Member benefits
A pin designed exclusively for Rosalie Edge Society members
Name listed in the Annual Report
Invitation to the spring and autumn President's Circle to meet staff, receive an update on a program, and have the chance to participate in an activity.
Can't make an event? The staff is happy to visit you for a personal update or to share an update and tour the Sanctuary on a day that is more convenient for you.
Most important, members enjoy the satisfaction of knowing they play a unique and long-lasting role in protecting and promoting birds of prey worldwide.
If you have already provided for Hawk Mountain in your will or estate plans, please complete the Rosalie Edge Society membership form. You may qualify and not realize it, and regardless of your age or the size of your gift, we want to acknowledge your planning, and say thank you for your vision and generosity.
If you believe you already qualify for the Rosalie Edge Society or would like to learn more, please print and complete the survey linked below.
This information is completely confidential. Please direct any questions to:
Mary Linkevich, Director of Development
610-756-6000 x212 or [email protected]
1700 Hawk Mountain Rd
Kempton, Pa 19529
EIN Number: 23-1392700
Share your story
Have you thought of Hawk Mountain in your estate planning? Is Hawk Mountain named in your will? We'd love to hear your story. Email us today using subject line "Planned Giving Story," along with your name and contact information. Tell us why you made this decision, and what Hawk Mountain means to YOU.
About Rosalie Edge
The Rosalie Edge Society is named for Hawk Mountain founder Rosalie Edge, one of the most important conservationists of the 20th Century. In 1930 at age 52, Mrs. Edge established the Emergency Conservation Committee, an information clearinghouse that distributed news about wildlife issues. Her Emergency Conservation Committee or "ECC" was operated almost exclusively by Mrs. Edge, who distributed thousands of pamphlets. Each bulletin reported outrageous acts of wildlife and habitat destruction, named the guilty and rallied readers to action.
Thanks to her tireless devotion and talent for grassroots activism, the Emergency Conservation Committee fast became one of the most successful conservation groups ever to operate in the United States.
Although Edge and her Emergency Conservation Committee made numerous gains for wildlife, she considered her crowning achievement to be the creation of Hawk Mountain Sanctuary. Here, her individual action stopped the shooting of migrating raptors. And, at the height of the Great Depression she single-handedly raised the funds necessary to complete the purchase of this special ridge.
Rosalie Edge established Hawk Mountain as a private, non-profit sanctuary that was open to all. She created a legacy—she founded the world's first refuge for birds of prey.