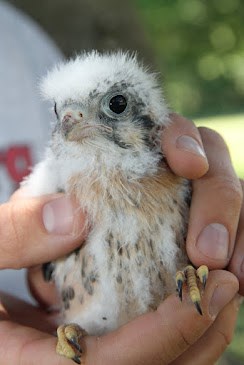 American Kestrel LIVE Web Cam
For over 5 years, Hawk Mountain hosts a 24/7 live stream via cameras mounted within 1-2 local American kestrel nest boxes installed by the Sanctuary's Conservation Science team.
The Kestrel Cam streams from a nest box on a private local farm and a box near the Acopian Center for Conservation Learning, and it runs from about mid-March to the end of June, dependent on the nesting pair and their chicks.
This stream is recorded and segmented into highlights that are used for monitoring purposes for the American Kestrel Nest Box Program and as the main component of the American Kestrel Curriculum designed by the Education team.
Stay tuned for the 2020 Live Cam!
Click below to view clips from past years' livestreams.
Youtube (2017-2018) Vimeo (2014)
You can support this program and our American kestrel conservation, research, and education efforts by donating here.