The Expanding Broad-winged Hawk Project
Posted on in In the Field by Phil Brown, Harris Center for Conservation EducationPhil Brown, Harris Center for Conservation Education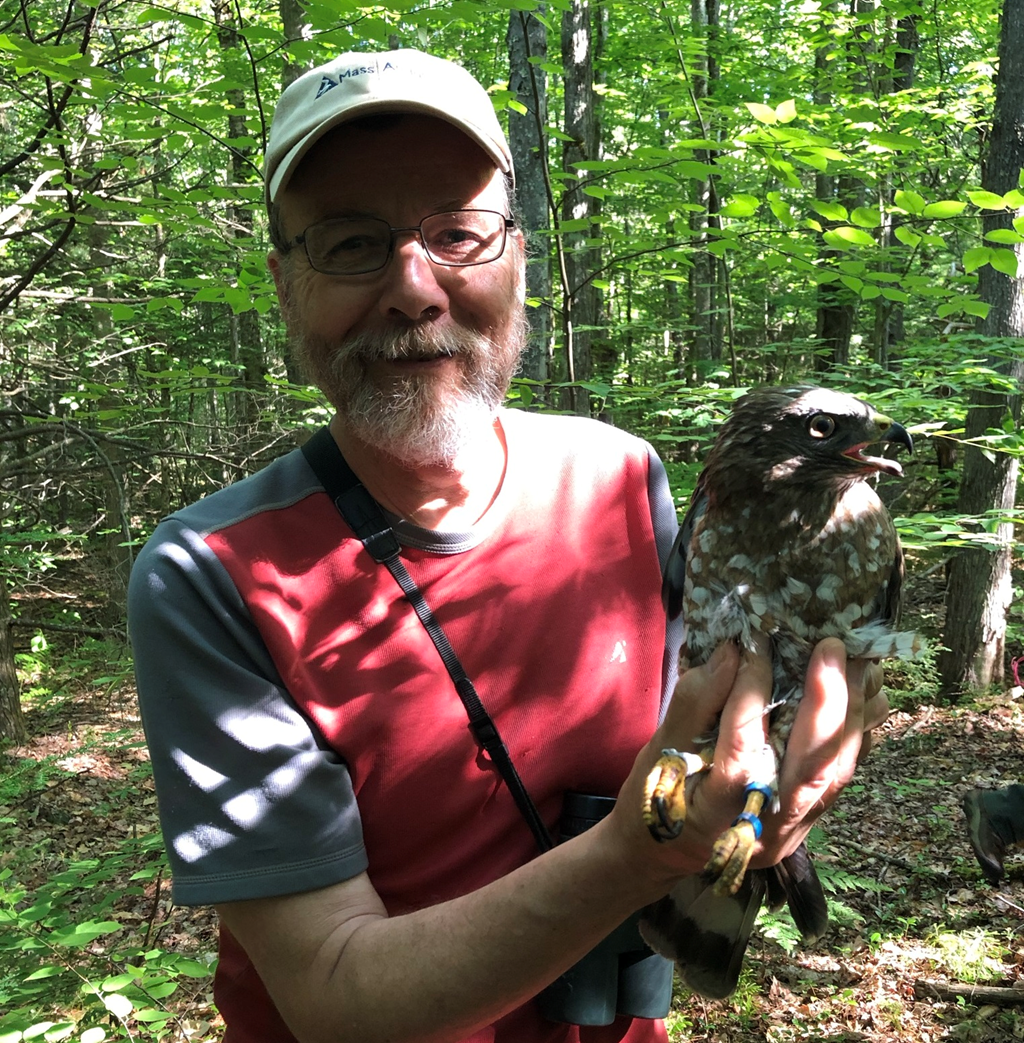 Over the last two years, the Harris Center for Conservation Education, a New Hampshire based non-profit land trust and environmental education center, has partnered with Hawk Mountain to learn about the migration and wintering ecology of broad-winged hawks breeding in southwestern New Hampshire. Plans for an ambitious 2020 field season were stalled by COVID, but in spring of 2021, our team of 15 volunteers, led by Harris Center staff Phil Brown and Eric Masterson, mobilized and was ready for the returning broad-winged hawks.
Masterson initially connected with Hawk Mountain during his 2016 bicycle trip to Central America following the broad-winged hawk migration. The Harris Center, a regionally-respected land conservation organization that protects 24,000 acres of land in the Monadnock Region of southwestern New Hampshire, had been expanding its community science and research arms. Naturally, when pitched this research partnership idea to Dr. Laurie Goodrich, Masterson and the Harris Center were eager to get involved and study this iconic migratory species – one which dazzles spectators at hawk watch sites across the Appalachian chain, including the Harris Center's own Pack Monadnock Raptor Observatory.

But, unlike raptor migration monitoring, which involves watching raptors soar in the skies overhead, this project's mission was to locate and monitor broad-winged hawk nests in deep forested habitats. Despite the singularity of its focus, nest finding is no easy feat. Volunteer Rich Frechette estimated spending over 40 hours searching the Harris Center's 128-acre Hiroshi property before successfully locating an active nest. This nest hosted "Harris," the only male bird outfitted with a transmitter during three hot days of trapping in late June led by Goodrich and Hawk Mountain Research Biologist Rebecca McCabe.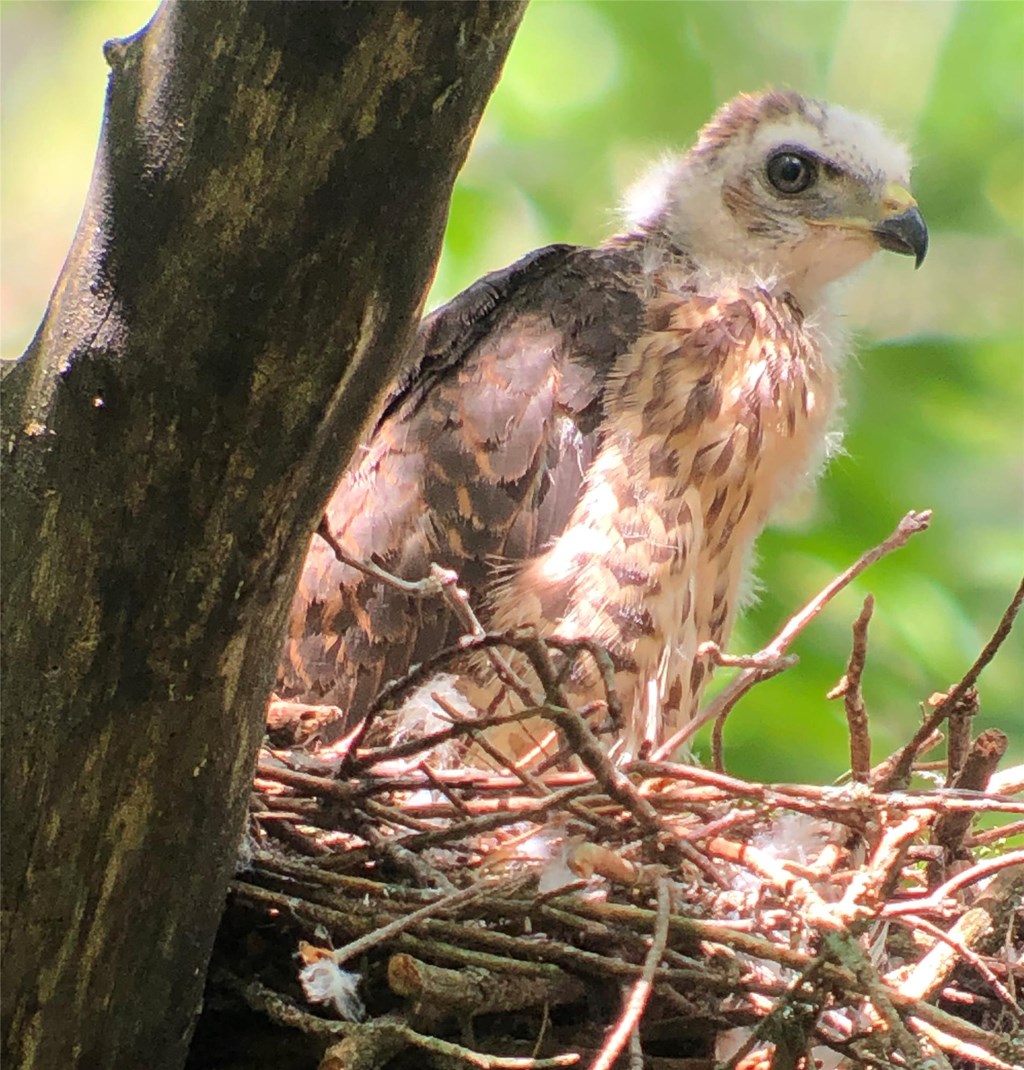 Even if volunteers did not have success, they were rewarded in many other ways, including through sightings of other breeding raptors, moose, and black bear -- and their hours of searching generated stories about exploration of these wild places we in the Monadnock Region call home. At Camp Chenoa, a former Girl Scout camp property turned conservation parcel, a black bear crossing my path led me fortuitously to an active Broad-winged Hawk nest – this one located in an Eastern Hemlock tree, a tree species that was not previously part of our search image.
Ultimately, trapping was successful at four nests, where a total of five birds were banded; three of these being outfitted with cellular or satellite transmitters. With the use of transmitters, Hawk Mountain and the Harris Center hope to learn the locations and forest types where New England birds spend the winter, how they migrate and use stopover habitat, and how this population compares to previously studied Pennsylvania birds.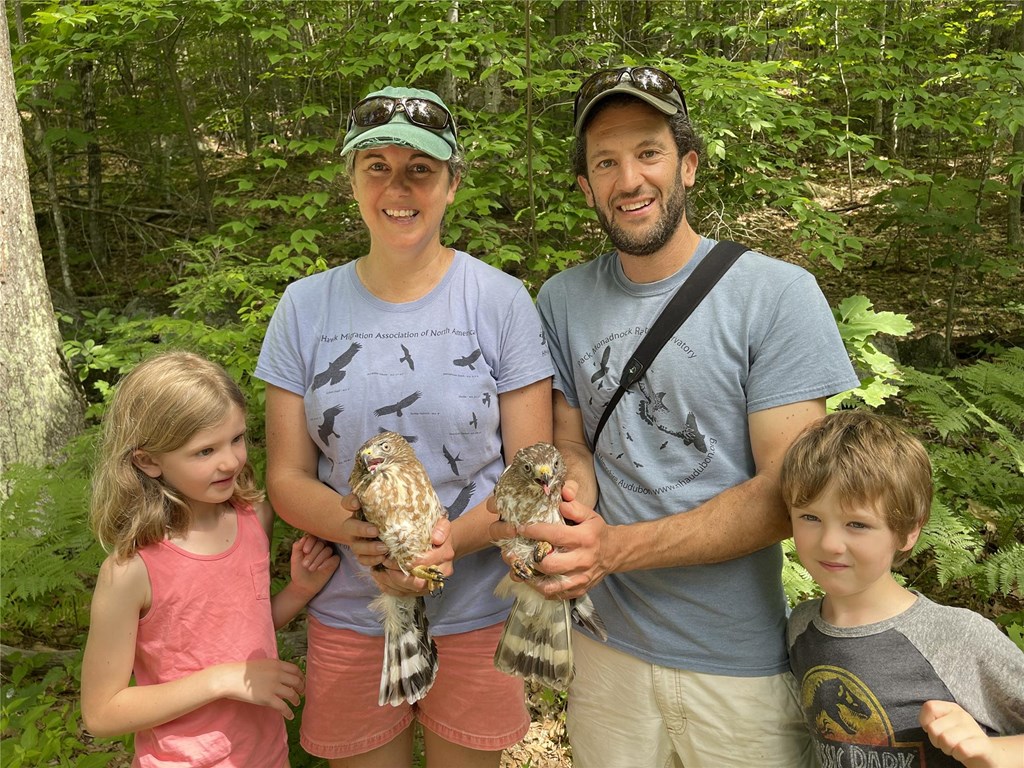 Though it is too early to tell if the transmitters will answer some of these questions, the nest monitoring aspect of the project has opened the door to further research questions on a more local scale. For instance, undergraduate interns from nearby Keene State College helped the Harris Center measure nest trees and quantify forest and nest data. In total, eight active nests were monitored in 2021, half of these located on Harris Center properties. Preliminary observations indicate that 75% of nests succeeded, each fledging one or more chicks. Monitoring revealed similarities in nest tree selection, forest type characteristics, proximity to wetlands, and nest construction. The Harris Center hopes to partner with Hawk Mountain again for a second season in 2022.
To learn more about the Harris Center for Conservation Education visit www.harriscenter.org.
Want to support this project? Donate now by clicking here!