Springtime in Montana
Posted on in In the Field by Dr. Jean-Francois Therrien, Senior Research BiologistDr. Jean-Francois Therrien, Senior Research Biologist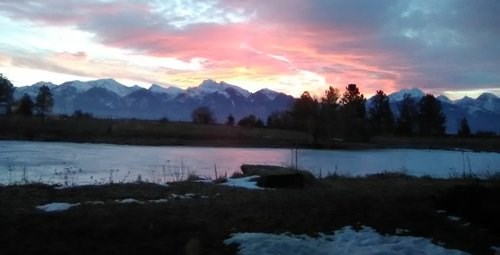 It's spring time in Montana. Well, at least according to the birds. Not that the weather has been any better than in the East lately, but birds are showing definite signs of a change in seasons. Following Hawk Mountain's global and inclusive mission geared toward collaborating with like-minded colleagues and organizations to lead lasting raptor conservation programs, I was recently invited by long-time researcher, collaborator, and friend, Denver Holt, from the Owl Research Institute, to get a feel of the pre-breeding season in his study area in scenic Mission Valley, Montana.
Holt, founder and leader of the Owl Research Institute, has been conducting field-based owl surveys for over 30 years now, including long-term monitoring of snowy owls in Alaska. Thus, there is an amazing opportunity to combine and compare results from our ongoing long-term research project in snowy owl breeding grounds in the Canadian Arctic, and to learn about the population status of this charismatic species across North America.
In addition, spending a few days in the field in Montana allowed us to identify potential projects for future collaborative work. Among them, assessing the pre-breeding condition of individual owls and how it is affected by the previous winter conditions, and then how it relates to upcoming nesting success, is on top of the list. The fact that we know very little of the basic ecology for most of those species is not a surprise for any owl biologist. However, according to any source of available information, several North American owl species are facing an uncertain future. Indeed, population trends of long-eared and short-eared owls are both showing alarming decline on a continental scale. In light of the threats impending on these species, such collaborative research projects have to happen now.
Numerous accounts have recently suggested that to understand the reproductive ecology of any species in order to better protect them, we need to have a holistic view and turn our attention to the non-breeding season. With that in mind, there is an amazing opportunity for collaboration with the Owl Research Institute and their extensive field-based experience.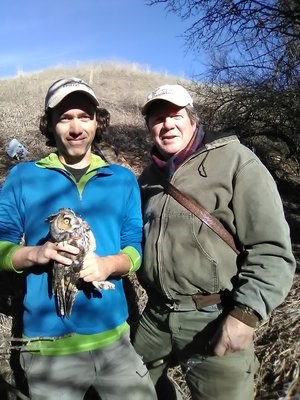 Those few days in Montana confirmed for me that they sure know the ropes of studying owls in the field: before lunch on the very first day, we had already captured and released 5 long-eared owls to assess their pre-breeding condition. We then proceeded to observe a phenomenal amount of great-horned owls (most of them sitting tightly on their nest), as well as short-eared owls flying and displaying territorial behaviors over the grasslands at dusk, among other things.
Research collaborations are an essential part of conservation science. Individuals alone can go a certain way, but with colleagues, we make real change. That is why at Hawk Mountain, we put much value in cooperation, team work, and network building. To learn more about our work with North American owls or any other species of raptors, or if you wish to financially support our research efforts, contact me at [email protected].