Mountain to Sea: 10 Year Anniversary
Posted on in In the Field by Mary Linkevich, Director of DevelopmentMary Linkevich, Director of Development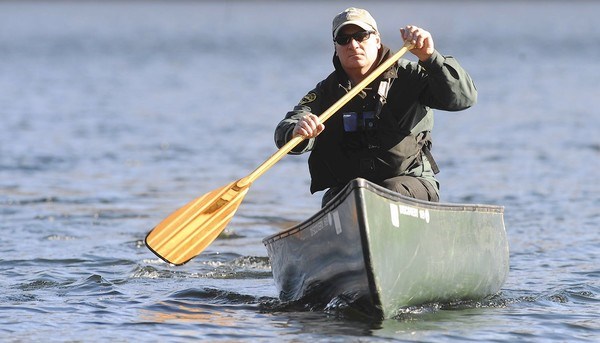 Water cooler talk in the Hawk Mountain lunch room ranges from family life to fungi forms, the latest TV shows to a recent turkey vulture wing-tag sighting. So it was no surprise when, one day 10 years ago, we waxed philosophical on the connectivity of people and places within a watershed, and how one's actions here can affect people and places more than 250 miles from home.
The discussion sparked an idea for my friend and colleague Todd Bauman, our director of stewardship and a long-time outdoor adventurer.
"You know," he said, "you can connect Hawk Mountain to the sea. This is doable."
"Think about it," he went on. "I leave my house at Schaumboch's, hike to North Lookout, hike down to the Little Schuylkill River and get in my canoe. Then paddle to the Schuylkill, hook up with the Delaware and end up at Cape May Point."
And so Bauman's winter adventure was set: He decided then and there to journey from mountain to sea as soon as the busy fall visitation dropped. "A vacation," he called it. In December.
I thought he was crazy, but I had an idea, too; if he was willing to do an insane journey, why not share it with the public? We had recently launched Hawk Mountain's Facebook page and had a new website (or at least, it seemed new and fancy for 2010). Using cellphones, waterproof cameras, a water-tight laptop case and a GPS tracker, we believed we could blog about the people, places, habitat, history and wildlife Todd spotted along the way, and share his progress and the route as he went.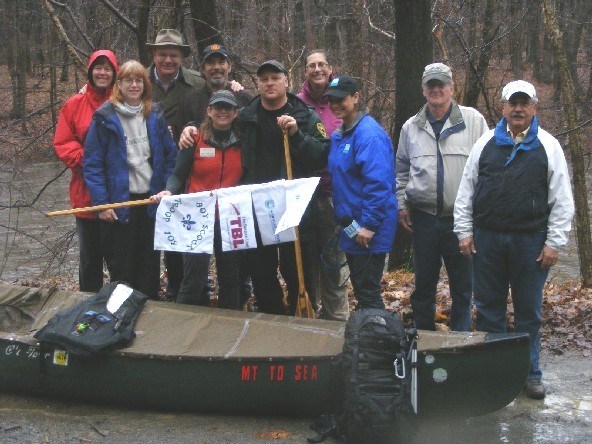 "Let's make it a fundraiser," I said, egging him on. I don't know what I was thinking, but our interim president Tom Kerr thought it sounded cool, so we ran with it.
And the amazing thing is that it worked.
Todd departed historic Schaumboch's Tavern by foot on Dec. 1 at 8 a.m., hiked to North Lookout in abnormally muggy, windy weather, then set off down the steep north side of the ridge toward the Little Schuylkill, where he began to paddle almost exactly at the same moment torrential downpours fell. He arrived—safely, I might add—at the Atlantic Ocean near Cape May Point on Dec. 15, concluding his voyage simultaneously with the close of Hawk Mountain's annual raptor migration count.
Todd traveled through one of those most urbanized water corridors in the northeastern United States, yet captured for his followers the cultural and natural history of the communities that existed or exist now because of the waterways. Whether in remote areas or the heart of Philadelphia, he reported encountering a wide range of wildlife that adapted to industrial urban growth.
This year we celebrate the 10th anniversary of Todd's incredible Mountain-to-Sea journey, and we hope to share in future blogs what has changed along his route in the last decade, for good or bad. Our technology has certainly come a long way and hopefully the wildlife has celebrated victories, too. I hope you follow along. We already know that Maurice Broun, in his book Hawks Aloft: The Story of Hawk Mountain considered the Little Schuylkill River in the late 1930s to be "a sewer," but that waterway has since recovered to become a designated Pennsylvania Scenic River that provides critical riparian habitat and supports wildlife that nests and migrates along the Kittatinny Ridge.
Todd claims that in 2010 this Mountain-to-Sea journey was my idea, but I disagree. He was the star of the show and I a mere backseat driver, serving as home-base point-person. My primary purpose was simply to confirm that Todd arrived each night at his designated spot—or at least nearby—and in one piece. As each day dawned and the weather grew colder, I became increasingly paranoid about the inherent danger of him paddling alone, especially through the Philadelphia Naval Shipyard and along the choppy Delaware where it converges with the Atlantic.
Besides worrying, I made sure the blogs posted correctly, shared them on the new and exciting Facebook platform and through our growing email list, and made shameless pleas to support the journey with a financial gift. Meanwhile, Todd met and made multiple friends, was detained at gunpoint at the Salem Nuclear Power Plant (he did look suspicious landing in the dark by water with headlamp and wet suit), and bitter-cold December storms stopped him just eight miles shy of rounding Cape May Point, his ultimate destination. I almost had a nervous breakdown, but he had the time of his life.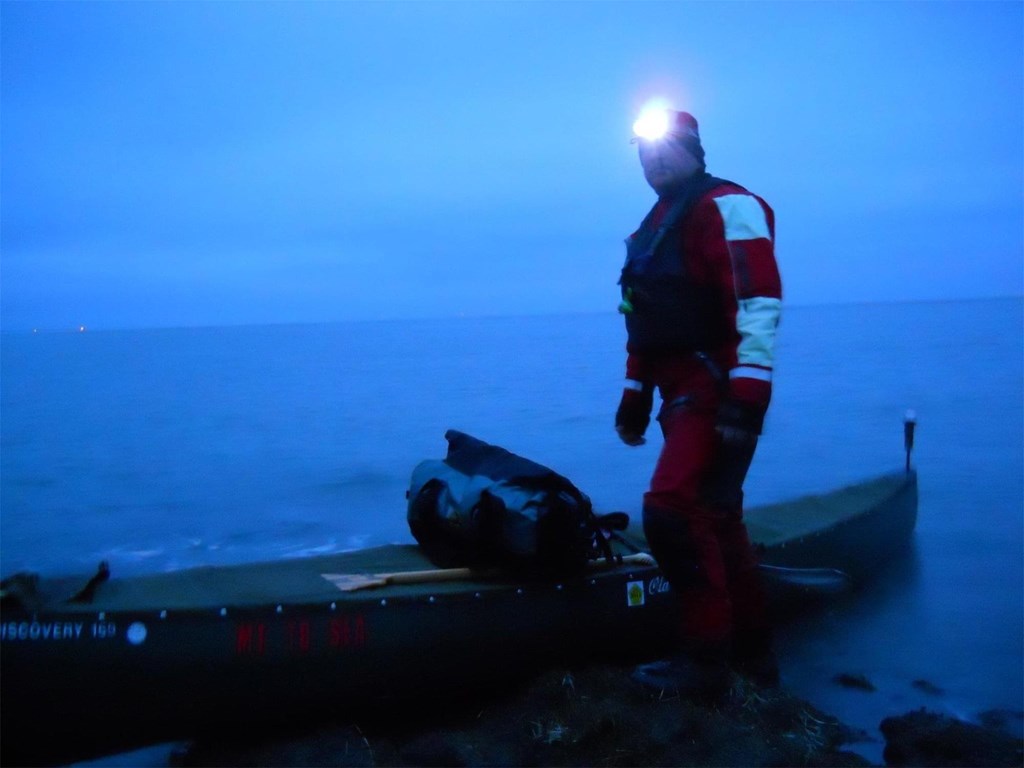 We planned and practiced, bought or acquired the gear, and tested how to use a Macbook in the wild. By Dec. 15, 2010, we raised more than $10,000 for Hawk Mountain conservation programs and all before the era of GoFundMe. We added hundreds of new followers to our fledgling Facebook page, launched our first blog, and all the while Todd Bauman enjoyed the voyage and impressed us with his new blogging abilities.
He also proved, without question, that one man can travel from home, follow more than 250 miles of waterways over three rivers, and end at the sea -- and that people and places, migration watch sites and conservation partners, are vitally connected along this important ecosystem.
Read the first Mountain to Sea blog here!