Expanding the American Kestrel Project: Collaboration Across the Northeast
Posted on in In the Field by Hawk MountainHawk Mountain
Did you know that Hawk Mountain has the longest-running American kestrel nest-box program in the country? It's true! For over 50 years Hawk Mountain researchers have been monitoring nest activity and banding fledglings in the Kempton Valley region. Adult kestrels are also trapped and banded in this area, with researchers recently deploying Motus transmitters that use radio telemetry to track their movements. North America's smallest diurnal raptor has been experiencing a population decline and to determine why, Hawk Mountain began this large-scale monitoring project.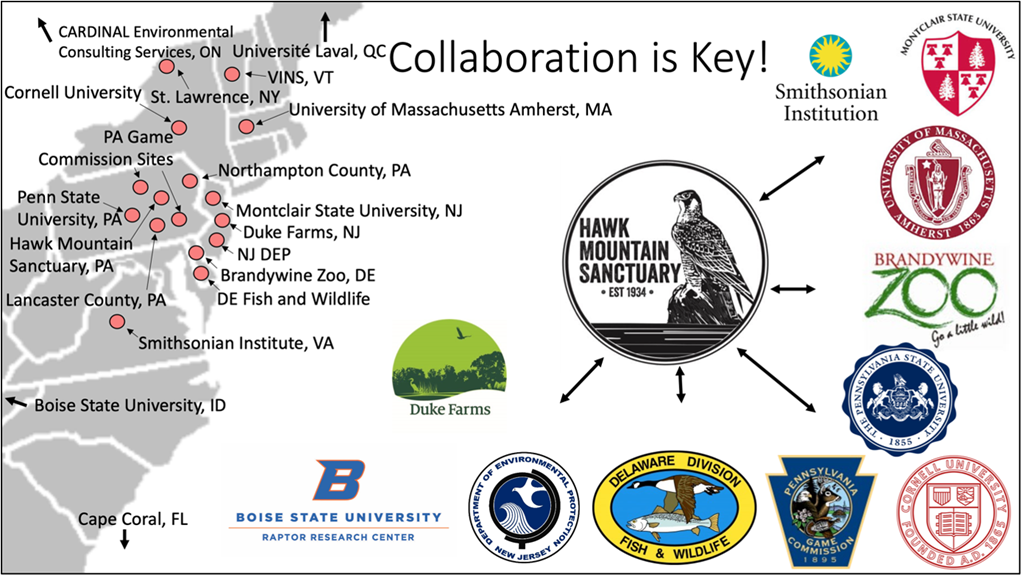 In the past four years the project has expanded, recruiting collaborators from Florida, New Jersey, Idaho, Delaware, Virginia, Vermont, Massachusetts, and even regions in Canada. Organizations include the Pennsylvania Game Commission, Delaware Fish and Wildlife, New Jersey Department of Environmental Protection, Boise State University, University of Pennsylvania, Cornell University, University of Massachusetts, Pennsylvania State University, Montclair State University, Duke Farms, Brandywine Zoo, and the Smithsonian Institution. Each collaborator is surveying habitat, monitoring nest boxes, and blood-sampling birds in their own regions, presenting Hawk Mountain with a more expansive network and greater opportunities to monitor the migratory behavior of kestrels across the northeast. More collaborators also allows for more opportunities to share and compare data with one another.
The data collection period is over for the breeding season, but Hawk Mountain researchers are still deploying and tracking transmitters year-round to estimate seasonal survival. Using data already collected, Hawk Mountain and collaborators have begun the analysis phase. This phase looks at tracking and survival data, contaminant data, results of habitat quality and prey abundance surveys, and recorded interactions between kestrels and other raptors. Graduate student Mercy Melo is using this information to pinpoint where in their annual cycle kestrels are most vulnerable, which may help determine the best times to focus conservation efforts. Two papers have completed analyses using this data, which are presently under review for publication. More details to come!
Watch the video below for an overview of this project!