Cinereous Vulture Conservation in Portugal
Posted on in In the Field by Alfonso GodinoAlfonso Godino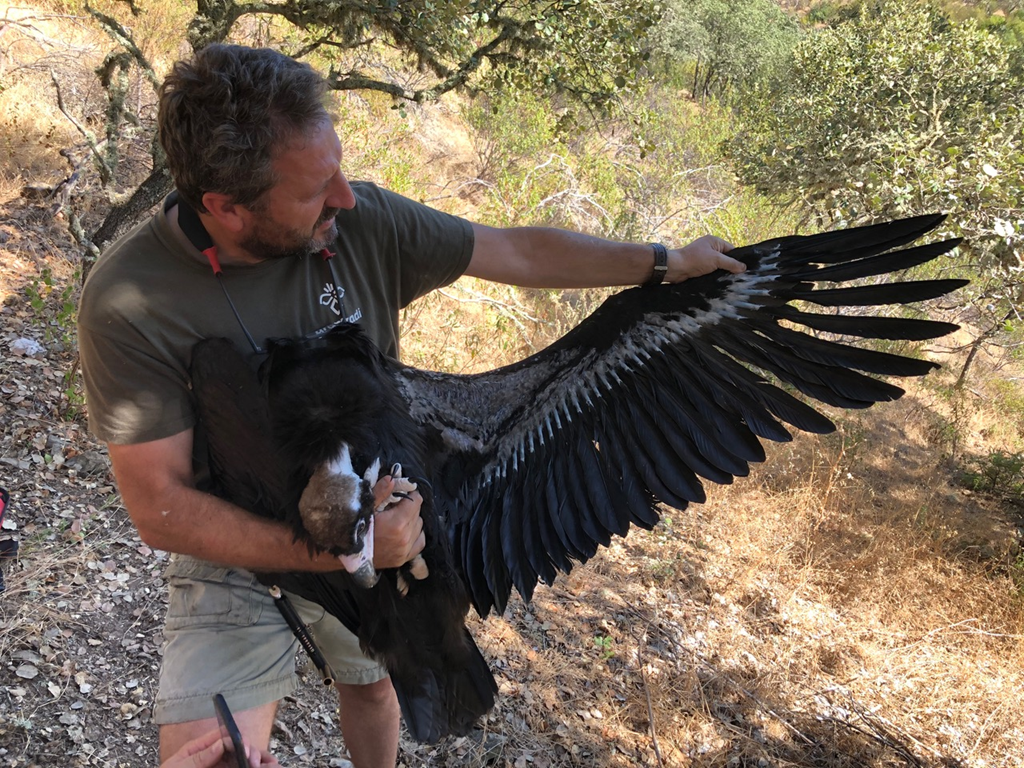 This past July has represented yet another successful year for the cinereous vulture (Aegypius monachus) research project in Portugal. My team and I have been studying the juvenile population of cinereous vultures in the colony of Tagus International Natural Park during the summer field season. The aim of this project is to increase the knowledge of juvenile dispersion and threats in Portugal and Spain for the main colony of cinereous vultures in Portugal. During 2018 to 2020, several of the nestlings in this colony were tagged with GPS devices and we have confirmed that, during the juvenile dispersion which occurs between March and July of their second year, these vultures visit large areas of the Iberian Peninsula. Areas as far from the colony as the south of France (700 kilometers or more than 400 miles from the colony), as well as Galicia and Andalusia regions in Spain which are located 400 and 250 km from the colony.
Thanks to the GPS, we have detected their frequent use of the border between Portugal and Spain around Tejo river. They also visited other protected areas such as the Serra de São Mamede National Park in Portugal and the protected area of Sierra de San Pedro in Spain. These areas are likely selected for their high food availability due to the extensive grazing of sheep but also due to the important presence of red deer and wild boar hunting areas. These areas are less than 50 km away from the colony. Other areas of intensive use were detected in southern Spain, 200 km away from the colony. These areas all have a high density of domestic and wild ungulates in common, which means high food availability.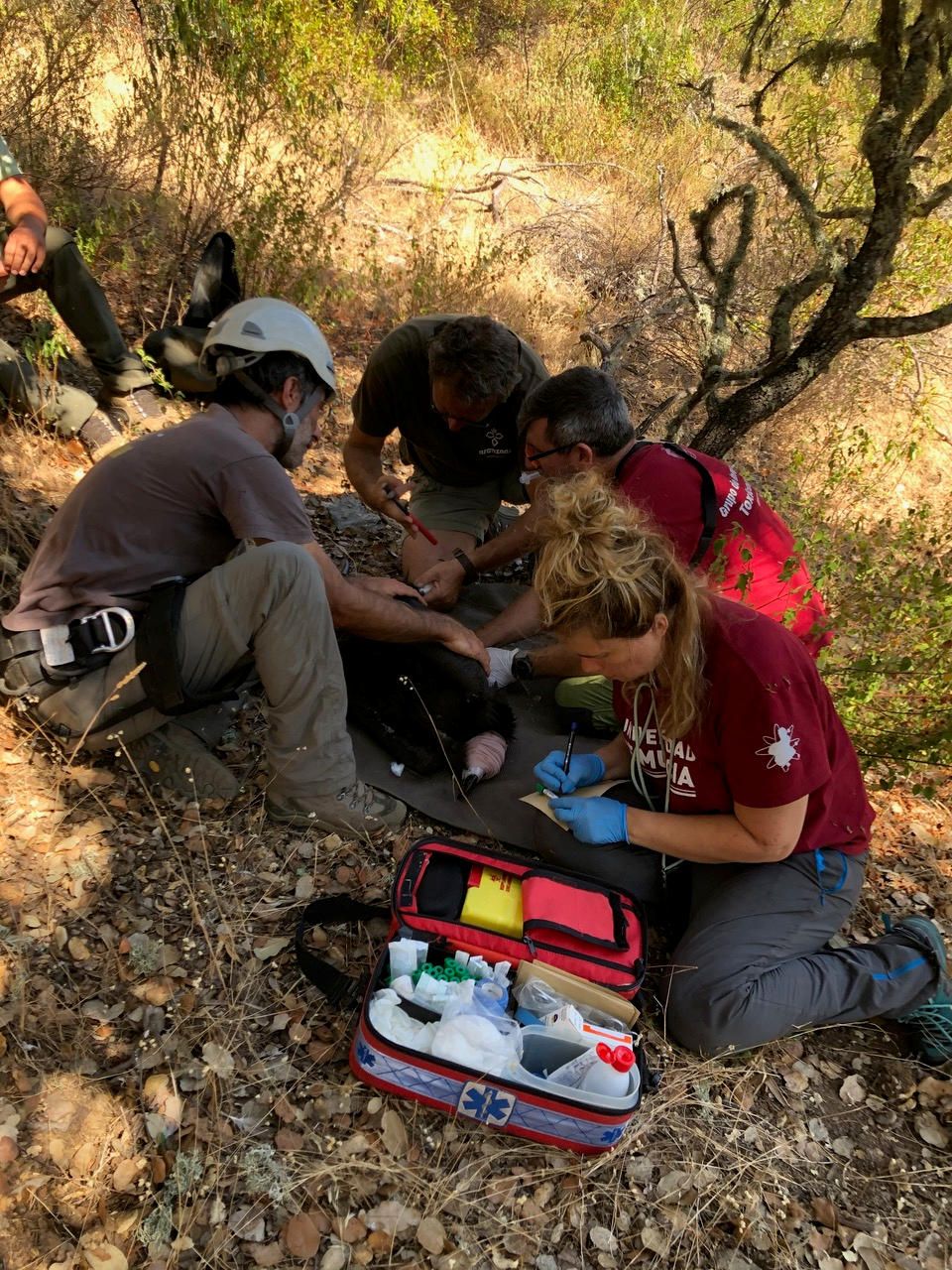 From the beginning of the project, we have been checking the health of the nestlings we equipped with GPS tracking, and we have been checking on the health of some other nestlings in the colony annually. In total, we have collected blood samples and feathers from almost 40 nestlings between 2018-2021. At the beginning, this toxicology study was focused on heavy metal contamination since these metals pose a threat for these birds and for raptors in general. We test the samples for 16 toxic substances that are potentially dangerous for the cinereous vultures. We also search for antibiotics and non-steroidal anti-inflammatory drugs (NSAIDs), which are used as veterinary drugs. These toxic substances are sometimes found in vultures mainly due to their consumption of livestock carcasses and the carcasses or entrails of wild ungulates that have been hunted.
Until now, we have only detected lead and cadmium in a few cinereous vulture nestlings in 2018 with no other heavy metals or veterinary drugs detected in the rest of the nestlings during our study period. This is, for now, a good result. However, there has been a recent report of the death of a cinereous vulture in Northern Spain due to diclofenac, an NSAID so dangerous that it was determined to be the main cause of the vulture population collapse in Asia over the last few decades, during which more than 90% of all vultures there died. This situation reinforces the need for permanent surveillance to detect these substances in vultures and prevent a repeat of that tragedy.
Although we did not find these toxins during our study, it is necessary to take preventative measures by creating and maintaining long term toxicology survey programs to detect the toxins in threatened raptor populations as early as possible. Especially those as small as the cinereous vulture´s population in Portugal, where the population consists of less than 50 breeding pairs. This project will continue and has become the biggest toxicology study for a threatened raptor population in Portugal. It is also one of the most important monitoring and surveying toxicology studies on cinereous vulture nestlings in Europe.
This study could never have started and grown as it has today without the permanent support of Hawk Mountain Sanctuary, the collaboration of the electric company ENDESA, the National Institute for Nature and Forest Conservation of Portugal, the Tejo International National Park, and especially the collaboration and support of the Toxicology Service of the Veterinary University of Murcia, Spain. In 2021 we collaborated in the field with the local NGO for wildlife conservation QUERCUS for their project "Investigation and monitorization of birds in Tejo National Park" supported by the Fundo Ambiental.
Alfonso vlogged a recent excursion to locate, process, and tag a cinereous vulture in the Tagus International Natural Park. Click here to watch!