Batumi: The Final Frontier for Raptor Conservation
Posted on in In the Field by Sean Grace, PresidentSean Grace, President

It's amazing that in the middle of the information age, when everything has seemingly been discovered, that the third largest raptor migration corridor in the world is put on the map. The location is Batumi in the Republic of Georgia. I was fortunate to be invited along to the 10th annual Batumi Bird Festival by one of the founders, a former Hawk Mountain Conservation Science Trainee, Johannes Jansen, to witness the migration first-hand during early September.

Johannes Jansen and Wouter Vansteelant, another graduate or our international Trainee Program, followed up on some investigative work around the site and found huge numbers of migrating raptors along the eastern border of the Black Sea that acts as a funnel for 32 species of raptors draining primarily from eastern Russia. Johannes and the team from the Batumi Raptor Count have documented 32 regular raptor migrants that average more than 1 million raptors annually.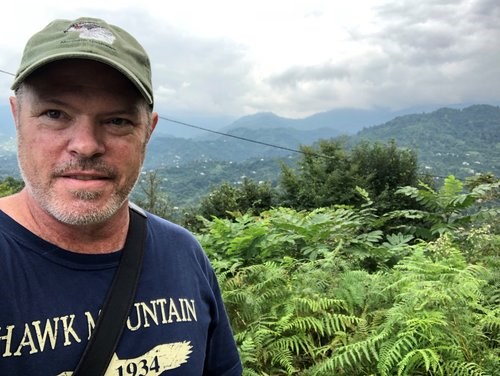 Captains Log: September 2, 2018
I was "beamed aboard" a jet at 12:30 PM from JFK International Airport and arrived in Batumi after a short connection in Istanbul at 9:30 AM, Batumi time. We picked up Luke Tiller, a British expat from California, and Andres de la Cruz, another Hawk Mountain trainee graduate, both professional birding tour leaders. We headed off to a four-star hotel nestled by the Black Sea, dropped gear, and drove to hawk watch site No. 2 in a four-wheel-drive van equipped to handle the rougher mountain roads. The drivers were veterans and deftly negotiated steep sections and some local livestock that we learn also use the roads for travel.
We quickly learned that given the enormity of the migration that the hawk watch is a coordinated effort between two sites, as the stream of birds can fluctuate depending on the weather. There is also a strict protocol in place where on most days the birds are counted from site No. 1, while hard-to-see species are counted from site No. 2. Given the volume, not all birds are counted, but rather priority is given to the Big Three: honey buzzards, steppe buzzards, and black kites. The principal birds seen on this day included more than 10,000 honey buzzards and nearly 1,000 black kites.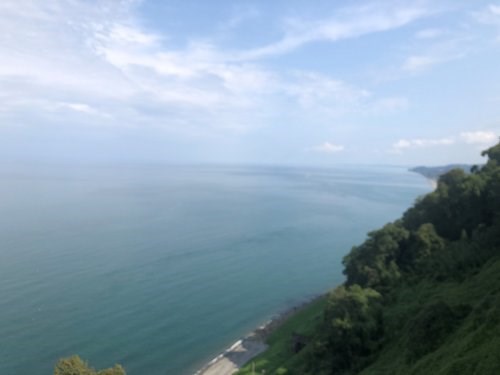 Captains Log: September 3, 2018
The rest of our elite special forces birding unit arrived and included an eclectic group of European birders including David Lindo who operates under the alias "The Urban Birder," Dominic Couzens, a field editor for Birdwatching Magazine, Roger Riddington, editor of British Birds, Jason Moss, a young tour guide from Oriole Birding, Tim Le Bleu, a comic and podcaster, Dirk Draulans, a biologist and science journalist for Belgian's Knack magazine, Roland Weber of German Birding Tours DE, and Tamas Nagi of Hungary Saker-tours. One American looms large, the esteemed Bill Clark who is one of the world's leading authorities on raptors and their identification.


Today we became oriented to the area and visited one of Georgia's national parks with epic overlooks above the Black Sea. We headed off to the hawk count and site No. 1, where we saw 10,000 honey buzzards and close to 770 black kites that are the number one and three species in terms of numbers counted in any given season.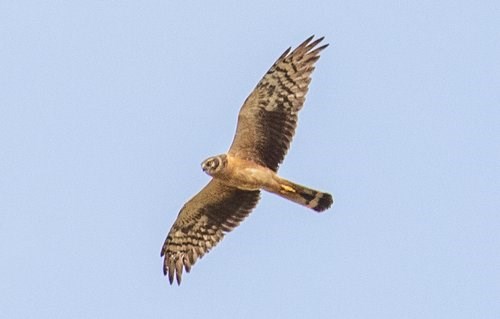 Captains Log: September 4, 2018
I accompanied Johannes and some early morning risers to the roof of our hotel, a good location for early morning flights of harriers. Unlike North America, we will see three species including the Pallid, Montagu's, and Marsh harriers during early September. During the week we saw many examples of these buoyant aerial hunters that take birds and small mammals. The most delicate and perhaps most exceptional is the male Pallid harrier, a slender version of our male northern harrier, a raptor so beautiful it has become the symbol for the Batumi Raptor Count.
Batumi is not all about birds. It offers an opportunity to explore the wonderful culture and generous hosts from the region. Batumi has been working to share their culture and hospitality with the formation of guest houses near each of the respective hawk watch sites, thanks to government support to encourage ecotourism. The guest houses provide comfortable and very affordable accommodations, often within walking distance to the raptor count sites. Our Georgian hosts have been very generous, providing exceedingly substantial banquets often featuring four-course meals with wine for the formal toasting traditions celebrating new friends. Wine is closely linked to the national identity, and our host demonstrates how it is done, putting down a full glass horn of his favorite wine as a way of showing gratitude to his guests.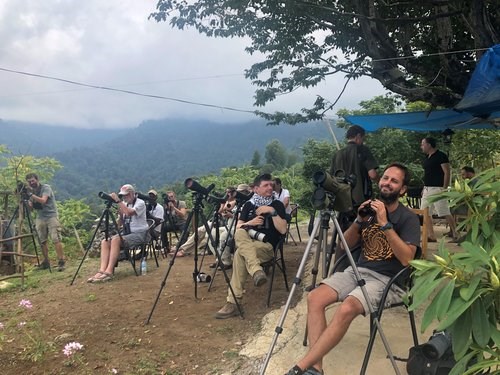 Captains Log: September 5, 2018
Today we enjoyed count site No. 2 and were greeted by swarms of European bee eaters upon exiting the vehicles. Bee eaters feed mostly on Hymenoptera as their name suggests and most are western honey bees. They are both highly beautiful and migratory, overwintering primarily in Southern Africa.

Batumi shares many things in common with Hawk Mountain, including the shooting of raptors by local gunners at these concentrated migratory routes. The hunters are local, male, and utilize some but not all of the birds for table fare. Although the impact does not exceed 1% of the total migration annually, harriers are hit at disproportionately higher rates, as they often fly low and slow during migration. The counters at both locations track both migrating raptor populations as well as gunshots. There is some good news in that the recent awareness at the local level, of how special and significant the migration is on a global scale, and that has encouraged some locals to reconsider this illegal tradition.
Captains Log: September 6, 2018
All week the more ambitious members of our group have joined Johannes for an early morning flight of harriers. Interestingly, the harriers do not follow the stereotype of many other raptors; being buoyant and long-winged, they are not afraid to power over open water and are up before the thermals have had a chance to form in the early morning sun. One of the best places to catch these early morning flights is along the coast of the Black Sea, and the Oasis Hotel rooftop seems the best place to settle in and watch.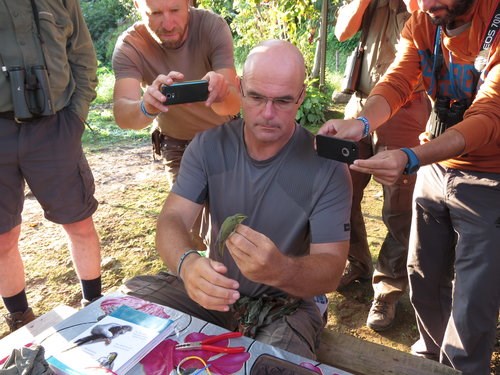 Captains Log: September 7, 2018

Today we went out for a special treat to observe some "Ringing," as our British host explains. He retired from being a special unit drug enforcement officer and now pursues a life dedicated to bird banding and hawk watching. In typical Georgian fashion, we were served Turkish coffee, thick enough to stand up a spoon in, to enjoy while we observed the bander process a green warbler. There is a significant opportunity to more formally study passerines in the region, as little work has been done on this front.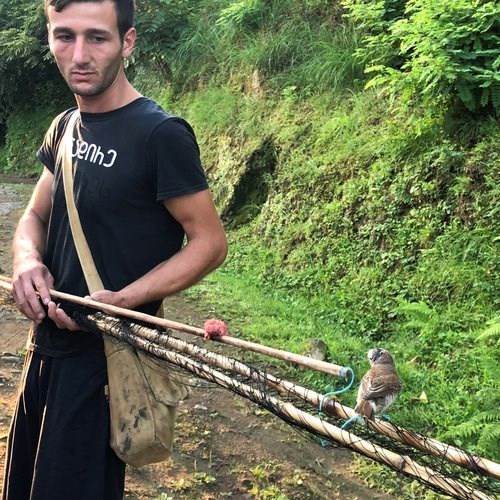 My attention was diverted from the banding as a local falconer stops by on his way to a hide where he hopes to trap his quarry, the prized Eurasian sparrowhawk. He carries a traditional setup that includes a net stretched between two poles to capture the hawk and a bait pole with a red-backed shrike that is tethered in place and kept calm with eye patches to avoid seeing the approaching sparrow hawks. The shrikes reward is a small amount of ground meat tied in place. These traditional methods date back more than 15 centuries, as falconry is one of the oldest traditions in Georgia. The falconers are a proud group of hunters, and they typically capture a bird in September, train the bird, and then release it back to the wild following the end of the falconry season in November.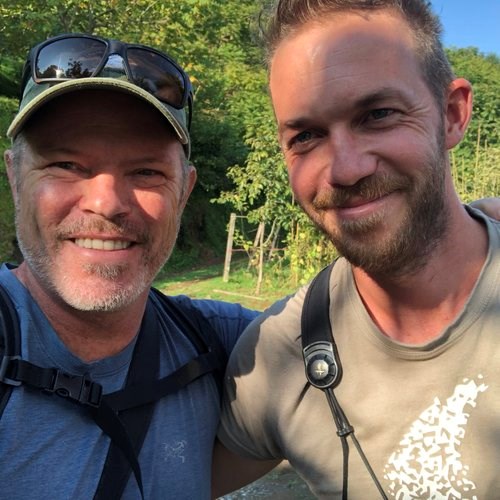 Captains Log: September 8, 2018

Eagle was the word of the day with three species seen, including the short-toed, the lesser-spotted, and the booted eagle. The combined day's total was 96 eagles with the booted eagle making up the majority of the flight.

Batumi boasts the largest and most diverse raptor migration corridor in Eurasia. Ten years after its scientific discovery, the count is going strong. The crews that heads up the count are young, dedicated, and have razor sharp identification skills. It's nice to know that Hawk Mountain has helped play a role in cross-pollinating raptor conservation skills globally. In my discussion with several of the founders and key players at the Batumi Raptor Count, it becomes apparent that we are all there for the same reasons: the love of and emotional connection to wild raptors everywhere!