Batumi Crossroads
Posted on in In the Field by Dr. JF Therrien, Senior ScientistDr. JF Therrien, Senior Scientist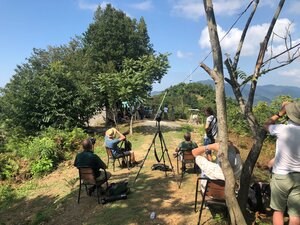 Located on the narrow lowlands between the eastern shore of the black sea and the high mountains of continental Georgia, Batumi is the literal crossroad for raptor migration in the Caucasus region. The site witnesses more than a million raptors migrating south every autumn from their breeding grounds in Eurasia. This is the very migration watchpoint that former Hawk Mountain leadership trainees Wouter Vansteelant and Johannes Jansen established from scratch more than 12 years ago. It also happens to be the hometown of our recent conservation science trainee Aslan Bolkvadze.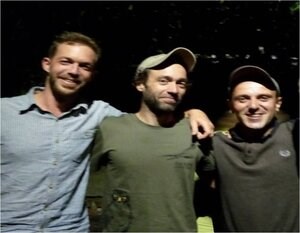 More than just a meeting place, crossroads are sites for reassessment, turning points, and defining moments. While raptors have likely been crossing paths in Batumi for centuries, Georgia is at another crossroads in its wildlife conservation culture and awareness. Indeed, Soviet-era buildings contrast sharply with the rapidly developing and booming tourism industry. This is also a place where hunters take aim at everything that flies—including legally protected raptors. Yet at Batumi, these same hunters cross paths with school groups and bird watchers from all over the world. Over the years, the establishment of the raptor count site has sparked momentum towards shifting the old shooting culture into a more sustainable future for raptors.
The creation of the raptor count site has also provided tremendous benefits locally and globally, leading to a recent influx of travelers and raptor enthusiasts from around the globe. These visitors bring a refreshing alternate income to villagers, and their charming guesthouses have multiplied in the last decade. Not to forget the incommensurable scientific data on raptor migration acquired at the site.
It is thus without hesitation that I accepted the kind invitation from Johannes to attend and present a talk about the historical and ongoing global raptor conservation programs at Hawk Mountain at the 8th annual Batumi Bird Festival. It was a pleasure to meet familiar faces—both humans (Aslan, Johannes) and birds (ospreys, peregrines). I was also graciously acquainted with so many new ones, including on-the-ground, local conservationists as well as the mesmerizing diversity of raptor species: lesser spotted eagles and pallid, Montagu's, and marsh harriers to name a few.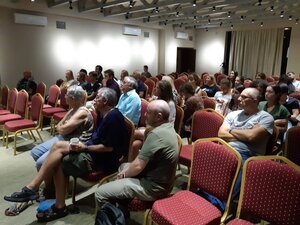 The 2019 Batumi Bird Festival was highly successful in bringing together local non-profit organizations, government officials, wildlife conservation law enforcement, international scientists and birders. All these powers were able to discuss and increase awareness in local and global communities about the threats raptors face and the benefits of healthy raptor populations and sustainable eco-tourism. With such a similar story to that of Rosalie Edge, Maurice & Irma Broun and others coming together in the name of raptor conservation, it is no surprise that presenting Hawk Mountain's historical and ongoing contribution to global raptor conservation was a big hit. The festival also hosted a workshop on illegal shooting where officials from the local Adjara region and the country's capital, Tbilisi, met with local law enforcement officers, international wildlife conservation organizations (e.g. Fauna and Flora International, OSME), non-profit bird associations (e.g. Sabuko), and international scientists to effectively reduce the persecution these birds face during migration. Overall, these small steps are helping to change the situation for the better, and a more promising future for raptors is on the horizon.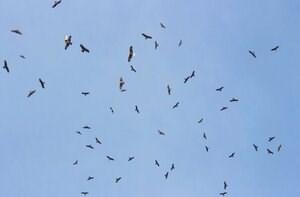 Enrolling seasonal counters from more than 16 countries annually, it is impossible not to be mesmerized by the refreshing mix of accents heard daily on the hawk-watching platform where Dutch, Finnish, Georgian, and Portuguese people—to name only a few—partner to count and protect these birds. Such a memorable experience is equaled only by the breath-taking views of mixed-species flocks where hundreds of European honey-buzzards share the same thermal updrafts with black kites and Eurasian hobbies. Typically, the festival is scheduled to occur during one of the major flushes of migrating raptors, however this year the event fell between two big flights. Nonetheless, we were delighted with an average of about 18,000 raptors daily on these so-called "slow days."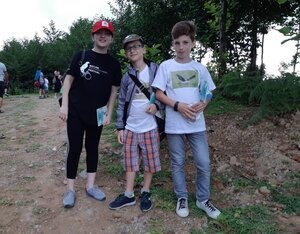 With such a great number of attendees and fellow conservation-minded people that I was lucky to meet there, there is a strong possibility of the Sanctuary welcoming future Georgian trainees to Hawk Mountain's program. The fact that Batumi was established by former trainees while focusing on addressing direct persecution creates a deeply resonating link between our mission and theirs. This provides hope that we will be able to tackle and address these issues and continue building a great future for raptors. It seems as though the region surrounding Batumi is at a turning point in understanding the critical role these birds play in the ecosystem and is truly beginning to appreciate and celebrate them. There is thus a tremendous opportunity to connect on education, research and conservation projects in the future.