Remembering Dotty Brett
Posted on in Heroes of Hawk Mountain by Mary Linkevich, Director of DevelopmentMary Linkevich, Director of Development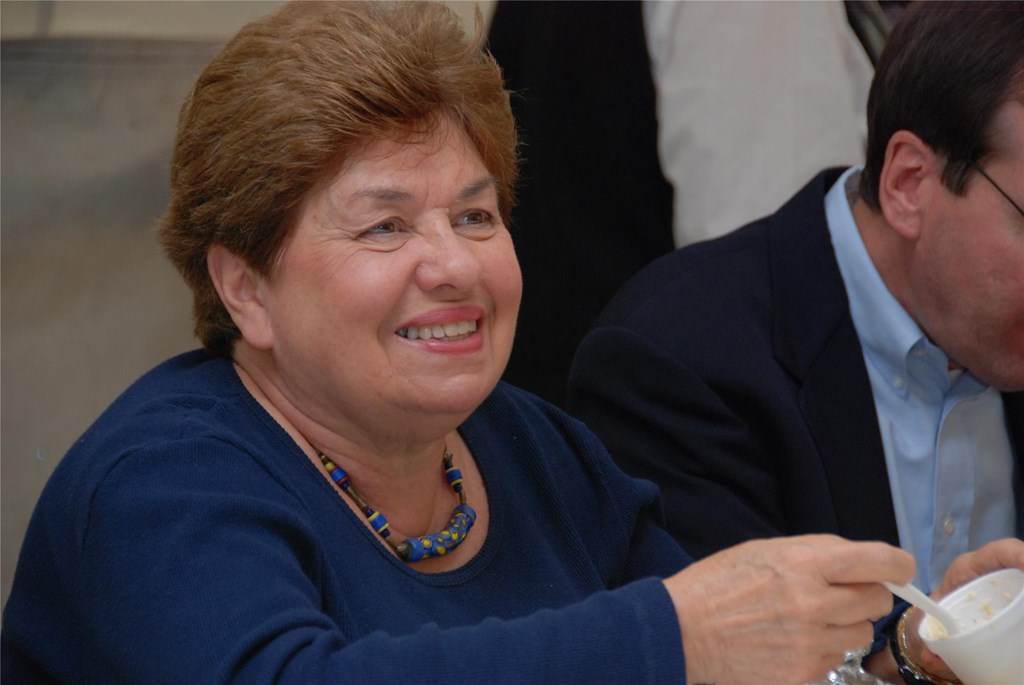 Hawk Mountain lost a dear friend with the recent passing of Dotty Brett. The wife of Curator Emeritus Jim Brett, the couple lived and raised their family on the Mountain before settling into their creek-side hand-crafted home nestled in its foothills.
A former English and reading teacher, and later, an employee for Wildlands Conservancy, Dotty spent the early 1970s to the mid 1990s living, working, and raising her family on the Sanctuary with Jim, first in our then-known-as "Common Room" and now Education Building apartment. Later, they would move into the Hill House Residence, allowing the apartments to transform into makeshift dorm living for the Sanctuary's growing international training program.
Dotty was the queen of the front desk and took part in interviewing Annie Trexler. "Dotty taught me everything about the operations and acted like a second Mom since I was only in my early 20's. We were a 'work family' in every sense of the word," recalls Annie.
Two decades before the opening of the Acopian Center and certainly before the age of Zoom, the board of directors gathered in the Common Room lecture hall for meetings and with Dotty on hand to meet and greet, serving as hostess as well as friend. She was known to take the wives of board members on day-long forays while the husbands held meetings, and then return to help serve coffee and snacks, and sometimes, organize plans for dinner.
The Sanctuary's 50th anniversary marked the spike in Hawk Mountain's volunteer program, and Dotty joined the ranks under Volunteer Director Sue Wolfe, completing important tasks to ensure smooth operations.
"My first recollection was stuffing envelopes, where I met Dotty, but she'd also pinch hit in the bookstore, help with mailings, and volunteer for the plant sales," Sue says. Dotty was also known for her baking, and she volunteered for the Kempton Fire Company and served on the board of the Albany Township Historical Society, as well.
But Sue says that while Dotty was an important force at Hawk Mountain, her top priority always was her family, first raising her three children, and then later, enjoying them with her extended family and four grandchildren.
Dr. Laurie Goodrich, who joined the staff in the 1980s, says Dotty was known to also host many of the visitors Jim invited to Hawk Mountain, including Yossi Leshem from Israel, but also speakers and researchers and former trainees. Laurie herself arrived at the Sanctuary in the throes of its 50th anniversary year and what would be its largest event for the time. Dotty, as usual, was part of the volunteer team to plan and seamlessly execute a weekend of celebratory festivities. Unfortunately for Laurie, she was tasked with buying cheese for hundreds of guests in an unfamiliar rural area.
"I called up Dotty, and she told me how to estimate the amount per person and where to go to order it. Of course, I ordered extra, so we had wheels of cheese in the freezer, but she really saved me that day," Laurie laughs. That was in addition to Dotty helping her move into Schaumboch's Cottage and introducing her to the area, a task she repeated with future residents and trainees.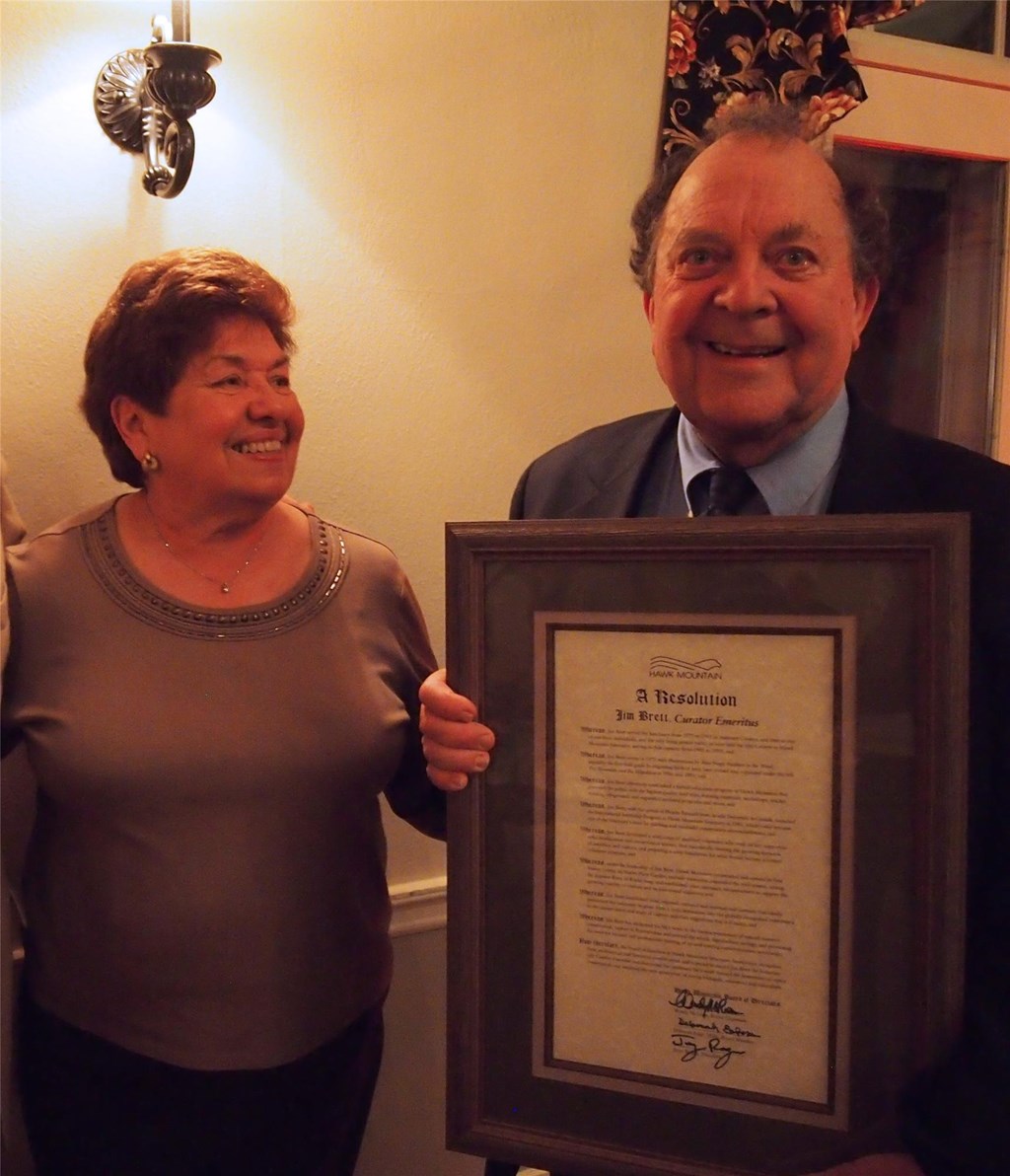 Annie points out that Dotty was a quiet force behind the big personality of her husband Jim Brett. "Not many people could command Jim, but Dotty was one. Her gentle demeaner, dedication, and sensibility was too strong to argue with. Jim would say, 'Mother said I shouldn't,'" Annie says.
In addition to being a passionate gardener and reader, Dotty also had a beautiful singing voice. "One time during a party, Jim asked her to sing 'Danny Boy.' There wasn't a dry eye in the place," Annie remembers. That would be her signature song and is fitting that the lyrics were displayed at her memorial service.
She had a fun and playful side, too. In the early days on the Sanctuary, there were weekly trips to Heisler's Dairy Bar with Sanctuary caretaker Norm Bailey and others. Kids and friends would pile into the Cadillac for ice cream and soft pretzels. Later in life, she was a leading force of the Red Hat Society, helping to organize outings with local ladies, many of them seniors who otherwise may not have been able to gather for laughs and mini daytrips.
Her smile was always illuminating and available. She made time not just for Hawk Mountain, but also for everyone she met and was committed to staying involved in her Kempton Community. Her friendships were many, and they were long-standing and strong.
Dotty volunteered continuously throughout her life, as recently as this year, and she and Jim visited in June to see the newly updated amphitheater. Looking back, she was a logistics master, the ideal counterpart to Curator Brett, and a genuinely kind person who exuded warmth and hospitality. She will be missed by all and remembered with deep affection.