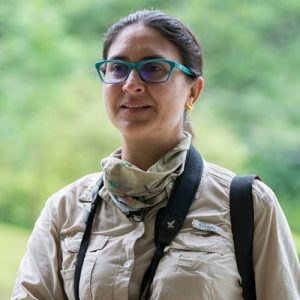 Ana Maria Castaño
Medellín, Colombia
Elected 2021. First term ends 2025.
Ana is a forestry engineer who has made birding her career. After an internship at Hawk Mountain, she monitored migrating raptors and has since conducted bird surveys and promoted conservation across her home country, Colombia. She is the head of conservation of Parque de la Conservación.
Ana serves as a board member for the National Network of Birdwatchers in Colombia - RNOA, participates in the national committee of Global Big Day Colombia, has been a member of Sociedad Antioqueña de Ornitología for 27 years, acted as president for 3 periods. She also has supported the creation of some regional ornithological societies, and to establish raptor migration count sites in Colombia.
"Being an intern at Hawk Mountain changed my life," said Ana. "I hope this opportunity to serve on the board will allow me to change the lives of many young people interested in conservation worldwide."