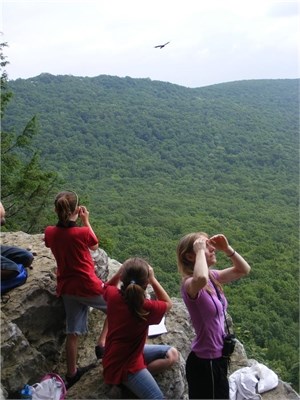 $15.00
$10 for Members
Price covers 1 parent and 1 child. $5 per additional child.
Homeschooled students are invited to join us on the Mountain monthly for experiential learning! Topics will focus on phenology of the Appalachian forest ecosystem. Programs are designed for K-12 students and are filled with hands-on learning activities both inside and outdoors.
January's Topic: Eat, Sleep, or Leave
Winter survival strategies of wild plants and animals covered through hands-on investigation and discussion. Students search for evidence of the various survival strategies along the trails.
February's Topic: Nesting Now
A few hardy birds claim territories, build (or steal) nests, and lay eggs in the coldest time of year. Whooo-whooo are they? How does this help them survive?
March's Topic: Earthy Equinox
At 5:37am on March 20th, 2021, lines are magically crossed in the sky around the Earth. Discover why the days and night are equal two days each year. Discover the movements of Spaceship Earth.
During the winter months, the program is split into two time slots—one on Tuesday and one on Wednesday—to allow for indoor activities with a safe amount of participants. Each slot is limited to 10 students. Masks and social distancing are required at all times.
Parents are not required to stay for the duration of the program.
This event takes place every third Wednesday of the month!