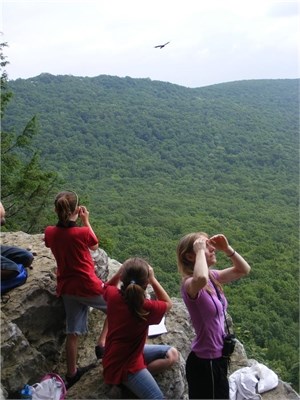 $15.00
$10 for Members
Price covers 1 parent and 1 child. $5 per additional child.
Homeschooled students are invited to join us on the Mountain monthly for experiential learning! Topics will focus on phenology of the Appalachian forest ecosystem. Programs are designed for K-12 students and are filled with hands-on learning activities both inside and outdoors.
September's Topic: Bio for Beginners
Explore the different techniques that wildlife biologists use to do their research. Learn how to check for signs of animals and to record the evidence that you find. Discuss the different projects that are currently happening around the world and in your own backyard.
October's Topic: Awesome Owls
Learn about the different adaptations and ways that owls interact with their environment to make them a true nocturnal animal. Meet some of the owls that make Hawk Mountain their home and ways to help owls survive in Pennsylvania!
Social distancing required at all times. Masks are recommended, regardless of vaccination status, when indoors or in populated areas. Parents are not required to stay for the duration of the program.
This event takes place every third Wednesday of the month!